I do love a natural, wooden brush as you'll know if you read my post about the wooden washing-up brush with replaceable head. Since writing the original version of this post Natural Collection have stopped selling toilet brushes.
So I'm updating this post about toilet brushes for a green home. I've not bought one yet so can't review them for you but they look like fantastic environmentally-friendly alternatives to the standard plastic brushes which can't be recycled and just end up in landfill.
Natural bristle toilet brush with stand
This toilet brush (which I think is manufactured by Redecker) is made from untreated beechwood and plant fibre bristles. Its design cleverly includes a small attached inside rim cleaner and the stand has a terracotta removable drip tray. Made in Germany.
Lavatory brush with stand Ref: G68 from Marmaduke the Cat
And the great thing is that when it's time to replace the brush, you don't have to buy a stand and a brush as you can buy replacement brushes.
Replacement Natural Bristle Toilet Brush Ref: G85 £7.89
Wooden toilet brush with bucket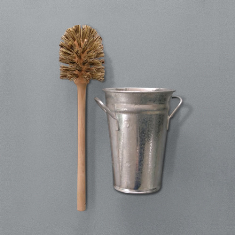 This wooden toilet brush with natural union fibre (apparently a mixture of two or more materials – usually tampico and palmyra) bristles comes with a galvanised bucket holder and will make an attractive addition to your bathroom.
Wooden toilet brush with bucket £18.00 from Labour and Wait, London, England
They also sell the brush on its own for £5.00.
Photos: Labour and Wait
Wooden toilet brush
This simple brush for cleaning your lavatory has a wooden handle and natural tampico bristles. Unfortunately, I've only found it available in America from Brook Farm Stores in Brooklyn at $16.00.
Follow Be a Shade Greener

Sign up for emails

Special offers & more direct to your inbox