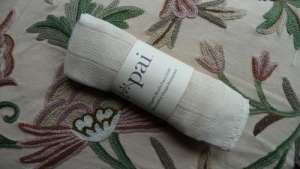 I really rate skincare systems which combine hot cloth cleansers used with an organic muslin face cloth so I thought I'd share with you this simple, cheap way to make your skincare even more effective, plus Emma Hardie's facial massage using the cloth.
Why do you need organic muslin face cloths in your daily skincare routine?
Exfoliation – Muslin face cloths turn your ordinary cleanser into an exfoliating skin cleanser. Most exfoliating products recommend that you only use them once or twice a week but with a muslin cloth the exfoliating action is so soft and gentle you can use it to exfoliate twice a day. Removing these dead skin cells helps unblock and decongest your pores and results in smooth, clean and glowing skin and who doesn't want that!
Saves time and money – using a muslin cloth to remove your cleanser means the "rinse" step of your skincare regime now also doubles up as an exfoliator saving you time. It also means you don't have to spend as much money on exfoliating scrubs as you will probably find you don't need to use exfoliating products so often.
Deep cleansing – muslin squares help to properly cleanse your skin but without drying or stripping it of natural oils which it needs as long as you use a good natural and organic cleanser (see "Facial cleansers to use with muslin cloths" below) . It also helps removes residues of dirt or make-up without damaging the skin.
Eco-friendly – Muslin cloths are re-useable making them much more environmentally-friendly than cotton wool or those horrible disposable face wipes. You just pop them in the wash after a couple of uses.

How do you use a muslin cloth?
Apply your cleanser in the usual way. Typically cleansers used with muslin cloths are creams or balms but I use my cloth with face washes too. Taking a few minutes to massage your cleanser into your face is another way to supercharge your regime.
Rinse the cloth in hot water and hold it over your face for a few seconds to help open the pores.
Use the cloth in a gentle circular motion to remove your cleanser.
Rinse the cloth in cool water and place over the face to help close the pores.
Emma Hardie's facial massage with muslin cloth Youtube video
For even more beneficial cleansing, try Emma Hardie's massage technique using a muslin cloth to plump up the skin and help reduce lines and wrinkles.
Which muslin cloths?
As this method of cleansing, pioneered by Eve Lom, has become more popular many natural and organic skincare brands have brought out their version of a hot cloth cleansing routine. As I wanted the greenest option I could find I decided that I would buy unbleached muslin cloths made from organic cotton. This proved harder to find than I imagined as many cloths weren't organic and most organic cotton cloths seemed to have been bleached. For me having a pure white bleached cloth was a totally unnecessary step in the production process, I was happy to have a cream muslin cloth.
Eventually through my internet trawling I came up with Pai organic muslin cloths. Pai are not one of these companies just paying lip service to their green credentials and have produced cloths from 100% organic cotton which is certified by the Soil Association.
These cloths have a more open weave than others I've tried and Pai say this "allows them to dry quickly and prevents the growth of bacteria".
The price was also very reasonable especially when I discovered that I could buy a Pai Skincare trial pack which contained a free muslin cloth alongside the miniature skincare samples.
I love the opportunity to try before you buy full-size products so it's great that the skincare sample pack contains:
So in the end I ordered:
Organic muslin face cloth, pack of 2 for £6.00
Pai also offer free delivery so I was more than happy to pay £11 for that little lot and the service was very quick.
Facial cleansers to use with muslin cloths
There are a range of cleansers you can use but here are a few suggestions of natural and organic skincare products:
Your thoughts
I'd love to hear how you cleanse your skin? Have you been using muslin cloths for years or are you a recent convert? What effect have they had on your skin? Or do you use something different?
---
Found this website useful?
Please consider donating a few pounds to help me develop this site. Or share this post with your friends and follow me on social media. Thanks for your support!
---