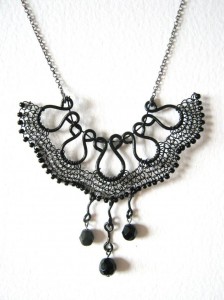 Handmade jewellery using haberdashery
British designer maker Judith Brown creates unusual and elegant collections of  handmade jewellery using old hooks, eyes, press studs, buttons and buckles all intricately stitched by hand with wire to create beautiful jewellery.
Judith explains her green thinking behind her innovative idea to reuse these vintage items:
My Vintage Collection uses recycled buttons and other items of haberdashery. In our throw away society I want to highlight the simple beauty of such everyday objects, once so precious as to have been hoarded away by our grandmothers in the times of "make do and mend". Vintage mother of pearl buttons and buckles up to 100 years old are transformed into elegant jewellery.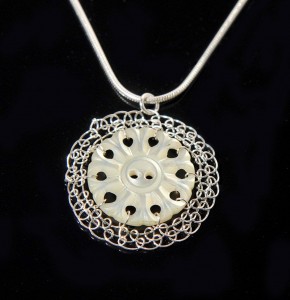 Vintage haberdashery
The hooks and eyes in the Vintage Noir collection would have been on display in old-fashioned haberdashery shops and are reminiscent of Victorian jet or Edwardian jewellery.  Other collections use mother of pearl buttons which are up to 100 years old.  The Vintage Lace collection recycles beautiful old handmade lace decorated with extra fine silver wire and tiny beads to create delicately stunning, feminine pieces. Judith also imaginatively incorporates glass buttons and buckles into her pieces.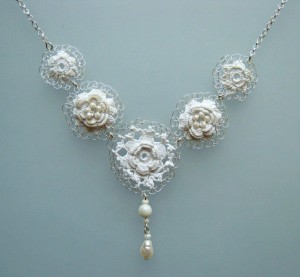 Wedding jewellery
These collections are also great for brides looking for "something old… something new".  Judith also offers a wedding range.  Tiaras and hair accessories such as pins, slides and combs can also be made.
Where to buy
Judith Brown Jewellery is sold online, through independent shops and galleries and is regularly selected to take part in prestigious contemporary craft events.
Packaging
Online customers receive their pieces in recycled jewellery boxes which are made ethically within the western world. All boxes are recyclable.
Links
Judith Brown Jewellery website: judithbrownjewellery.co.uk
Judith Brown on Twitter: twitter.com/Judithjewels

---
Found this website useful?
Please consider donating a few pounds to help me develop this site. Or share this post with your friends and follow me on social media. Thanks for your support!
---