Twitter has brought me into contact with so many great people who are willing to share and help others in their quests to be a shade greener. One such person was the owner of Opulentia Organics natural and organic skincare, who recommended I buy the book Clean House, Clean Planet – Clean Your House for Pennies a Day, the Safe, Nontoxic Way by Karen Logan.
Karen Logan is an environmentalist with years of experience including developing and selling her own range of eco-friendly cleaning products.
I'm so glad that I took her advice because this is a wonderful book for anyone who's concerned about the chemicals found in standard household cleaning products and wants to go green by reducing the potentially dangerous items they have in their home.
Want cheap cleaning products?
For people who aren't so bothered about green cleaning but who like to save money, Karen compares the price of her environmentally-friendly cleaning products with popular household products.
What I like
I like the way the book takes you from why you should consider switching to greener cleaning methods, a shopping list of ingredients and equipment you'll need to create your own products using the recipes in the book. Don't worry, there's nothing particularly expensive and Karen also suggests containers which you can re-use. Although, the products mentioned may only be available in the US, you should be able to find similar containers wherever you are. Ingredients used in the recipes are safe, cheap and easy to get hold of such as vinegar, lemon juice, bicarbonate of soda and essential oils.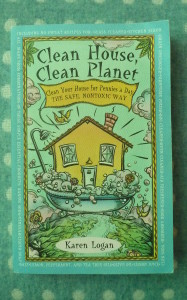 Chapter listing
The book is divided into seven parts:
Why switch?
Cleaning with those nasty chemicals?
Getting ready to clean safely
Cleaning with the good guys
The amazing alternatives
Cleaning questions and answers
Things to think about
Cleaning recipes
There are recipes for lots of different things including:
Car cleaner
Dishwasher detergent
Bleach
Disinfectant
Drain cleaner
Fabric softener
Furniture polish
Glass cleaner
Laundry detergent
Oven cleaner
Toilet cleaner
Bathroom cleaner
Where to buy
Amazon have copies on sale and you can be even greener by buying a second-hand copy
Any other green cleaning book recommendations?
Have you read any other books on green and eco-friendly cleaning? Please post any suggestions below.
---
Found this website useful?
Please consider donating a few pounds to help me develop this site. Or share this post with your friends and follow me on social media. Thanks for your support!
---