Cambridge-based Narynda Kumar has been developing her own natural skin care range for seven years after finding that prescribed products just weren't working. This is a story you will find is behind the start of many natural and organic skin care brands. Using left over wax from her own bee honey harvest, Narynda created a cream which cleared up her dermatitis, and improved the overall condition of her skin. Narynda set up her own business creating a production workshop at home where she makes her products by hand. The range is paraben-free, 100% naturally-derived and not tested on animals so I was happy to be sent products to review.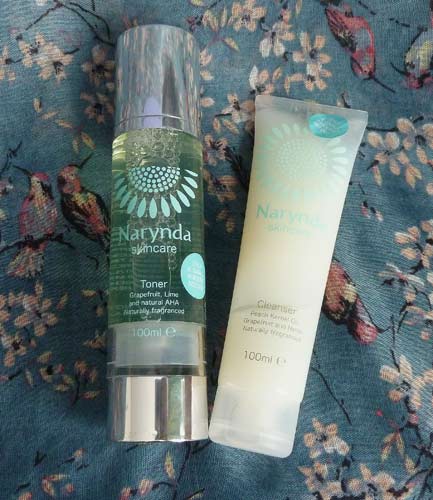 Cleanser
Fragrance
Although Narynda's products are unfragranced the ingredients give it a gorgeous fruity, floral fragrance which I love.
Results
Like Narynda I think cleansers should nourish as well as cleanse. I hate the stripped and tight feeling that you get with some cleansing products. This rich gel was a real treat to use and skin felt deep cleansed but soft and had a lovely, fresh glow. Grapefruit oil helps balance the natural oils of the skin and neroli oil helps to tone and smooth fine wrinkles. Without a doubt this is my favourite product out of the ones I was sent to try.
Ingredients
• Prunus Persica (Peach) Kernel Oil • Caprylic/Capric Triglyceride • Glycerin • Aqua (Water) • Sucrose Palmitate • Sucrose Laurate • Gluconolactone • Sodium Benzoate • Limonene • Citrus Grandis (Grapefruit) Peel Oil • Anthemis Nobilis Flower Oil (Chamomile) • Citrus Aurantium Dulcis Flower Oil (Sweet Orange) • Linalool • Lavandula Angustifolia (Lavender Oil) • Calcium Gluconate • Geraniol • Farnesol • Citral •
 Directions for use
Apply a small amount in circular upward movements using the linen cloth provided. Rinse or wipe with wet linen cloth. Use twice daily. Cleanser can also be used to remove make up. For lighter cleaning use damp cloth to apply the cleanser as it then turns the gel to a cleansing milk.
Toner
 Results
This toner isn't just used to sweep away traces of cleanser. It's designed for mature skin and contains ingredients, such as oat peptides, aimed to promote collagen formation to help reduce the appearance of fine lines and wrinkles. Hyaluronic acid nourishes the skin by its innate function of cell renewal, and its humectant properties helps retain moisture. I'm not sure that this has made a difference to lines and wrinkles but I've only been using it for about a month so hopefully it's playing its part.
Directions for use
Recommended for daily use before applying the day cream. Pump a few squirts onto a cotton wool pad or alternative pad after cleansing and then smooth over your skin using circular, upward movements.
Ingredients
• Citrus Paradise (Grapefruit) Floral Water • Citrus Aurantifolia (Lime) Floral Water • Aqua • Glycerine • Avena Sativa (Oat) Glucan • Avena Sativa (Oat) Peptides • Magnesium Aspartate & Zinc Gluconate & Copper Gluconate • Calcium Gluconate • Sorbitol • Sucrose Laurate • Sucrose Dilaurate • Sucrose Trilaurate • Phenoxyethanol • Saccharum Officinarum (Sugar Cane) Vaccinium Myrtillus Fruit/Leaf Extract • Acer Saccharum (Sugar Maple) Extract • Citrus Aurantium Dulcis (Orange) Fruit • Citrus Limon (Lemon) Extract • Ethylhexylglycerin •
Day Cream

Results
The day moisturiser is the most popular product and is high in antioxidants & fatty acids to nourish, protect & rejuvenate. Oats are used again for their nourishing and regenerating properties. As with all the products, you only need a small amount to moisturise your skin and I also use it at night. The cream is absorbed quickly and makes a good base for make-up.
Ingredients
• Aqua • Avena Sativa Kernel Oil • Butyrospermum Parkii Nut Extract • Glycerin • Hydrogenated Olive Oil Lauryl Esters • Hydrogenated Olive Oil Stearyl Esters • Olive Oil Decyl Esters • Arachidyl Alcohol • Behenyl Alcohol • Arachidyl Glucoside • Avena Sativa (Oat) Bran Extract • Xanthan Gum • Avena Sativa Kernel Flour • Phenoxyethanol • Avena Sativa Peptide • Ethylhexylglycerin •
Directions for use
Massage into the skin using circular upward movements.
Where to buy Narynda Skincare
Buy online from Narynda's website.
Be a shade greener rating (out of 5)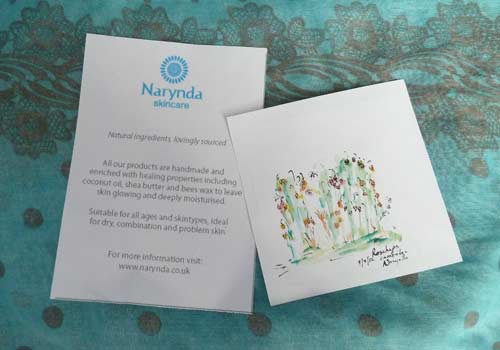 When I opened the parcel to find the beautiful little picture of rosehips with a personal note on the reverse, I knew this was no ordinary business. You just don't get this sort of personal service with larger companies. I liked that the products all come with a little sticker saying "only a small amount needed" which meant I immediately knew that these are good value. The products are gentle and effective and over the last month or so I've been impressed with the healthy glow and smooth tone of my skin. I definitely recommend trying Narynda Skincare and you can request free samples with your order. The range seems to be aimed at more mature skin but I think it would suit most skin types. They are considering making a fragranced range and I think that would be a great idea. Have you tried any of Narynda's products?
---
Found this website useful?
Please consider donating a few pounds to help me develop this site. Or share this post with your friends and follow me on social media. Thanks for your support!
---