Feet are often one of the most neglected parts of the body despite having to do so much work. I'm terrible at looking after my feet and it's only when they develop serious cracks and I have to resort to wearing socks even though it's summer that I take action. So Narynda Skincare Heel Balm had its work cut out. Would it prove to be the best foot cream for cracked heels?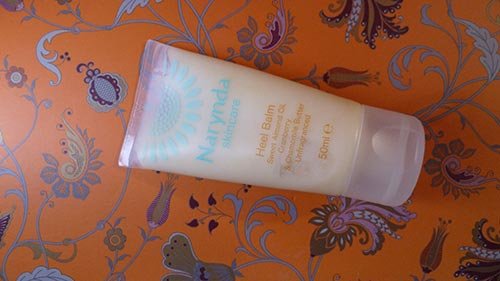 I was already impressed with Narynda's facial skincare system when I reviewed it so was excited to try this. When Narynda designed this all natural foot cream she carefully selected each ingredient to nourish and soften skin. The result is a super-moisturising balm containing ingredients which offer your feet more than just moisturisation:
Cranberry butter is a rich emollient, abundant in fatty acids and Vitamin E, it is therefore antioxidant, anti-inflammatory, nutritional and healing.
Chamomile butter is calming, antifungal so soothes and helps to heal broken skin.
Olive butter has the moisturising properties of Olives. It is rich in Linoleic acid and Vitamins A and E. It is anti-inflammatory, soothing and healing.
Beeswax – A natural emollient with protective and healing properties.
How to use
Narynda suggests that after a bath or shower you rub a very small amount over the soles and heels. It's comes out of the tube as quite a thick balm but melts on contact with the body into more of an oil which makes it easy to apply. It does take a while to soak in gently absorbed over hours for extra deep hydration so I've been using it every night before bed and have popped on a pair of socks to boost the moisturising effect.
Results
This balm starts work immediately making my feet look and feel instantly better. It's an intensively-moisturising and nourishing balm that soothes and helps repair damaged feet. I think it's the best Cracks in your heels aren't just unsightly but they allow germs and bacteria to enter which could cause an infection.
Ingredients
Caprylic/Capric Triglyceride, Butyrospermum Parkii, Limnanthes Alba (Meadowfoam) Seed Oil, Avena Sativa (Oat) Kernel Oil, Apis Mellifera, Helianthus Annuus Seed Wax, Prunus Amygdalus Dulcis Oil, Hydrogenated Vegetable Oil, Octyl Dodecanol, Cera Alba, Olea Europaea Fruit Oil, Chamaemelum Nobile Extract, Vaccinium Macrocarpon Extract
Other uses
I was lucky enough to bump into Narynda and her family at the Love Natural Love Organic Show in London where Narynda's Heel Balm was on the Free From shortlist. Although disappointed not to have won her category, Narynda was rightly proud of her product and also passed onto me some other uses. Apparently, it's also useful for elbows, hands or any other patches of dry skin. It can also be used on hair to smooth flyaways but remember a little goes a long way.
Verdict
This is one of the best foot creams I've used. It's so nourishing and I like the fact that the moisturising lasts for several hours after application. My feet look better than they have in ages so I'm going to try and keep them that way. I would definitely buy this again but think now my feet are looking good, I may use it a few times a week as a maintenance product and use a cheaper moisturiser on the other days. Treat your feet to Narynda Heel Balm and they'll definitely thank you for it.
Where to buy
A 50ml tube costs £9.50 and you can buy from various stockists including:
---
Found this website useful?
Please consider donating a few pounds to help me develop this site. Or share this post with your friends and follow me on social media. Thanks for your support!
---
You may also be interested in…