Odylique Creamy Coconut Cleanser is a Soil Association certified organic cleanser which has been formulated to gently cleanse sensitive skin.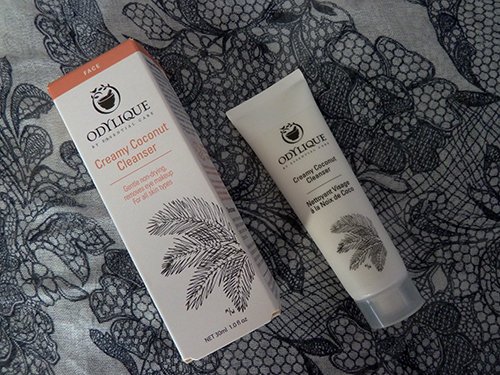 About Odylique
Our philosophy is simple: All ingredients must have therapeutic value, and the product must be a joy to use. This means we use actives – herbs and essential oils – in therapeutic concentrations for optimum benefit. Plant oils must be virgin and cold-pressed so that they have their full antioxidant vitamin-content intact, so as to actively nourish the skin and protect it from premature ageing.
Odylique is another natural skincare company created out of the founder's desire to find products suitable for her own allergy-prone skin and her family's eczema. Margaret started making her own skincare over 30 years ago and launched Essential Care (recently renamed Odylique – which means 'power of nature') with her daughter Abi and husband Colin in 2003.
Odylique's products are hand-made in their Suffolk workshop, are tested on humans and feature in the Ethical Company's Good Shopping Guide.
Our 30-year focus on sensitive skin means that we also have a unique position on potential allergens. We avoid all synthetic chemical irritants and possible allergens like artificial fragrance. In addition, we exclude lanolin, wheat, dairy and soya derivatives, salicylic acid, peanut oil, common allergen tree nut oils, and more…
Packaging
The 30ml squeezy tube is supposed to be recyclable but I'm not sure that it would go into my household recycling. The 200ml bottle is made from 100% post-consumer recycled material. Both products come in cardboard boxes which can be recycled.
Green credentials
Suitable for vegans
100% natural, 87% organic
Product is Soil Association certified
Recyclable packaging that was manufactured in the UK and Western Europe and has not been air freighted to Odylique.
No palm oil
No artificial ingredients, parabens or petrochemicals
Be a Shade Greener verdict: Odylique Creamy Coconut Cleanser
This organic cleanser has won multiple awards including from one of my favourites, the 2014 Ultimate Natural Beauty Bible.
It's created for sensitive skin using extra virgin olive oil combined with coconut oil to cleanse. It calms sensitive skin with organic rose water and a trio of essential oils and lemon adds a detoxifying effect. It's often used on skin prone to rosacea and has received glowing reviews from women searching for the perfect cleanser for sensitive skin. What more could you want from a cleanser?
I received the 30ml squeezy tube from Only Naturals as a sample. As soon as I unscrewed the lid and smelt this cleanser I thought it would be good for my skin. It smells of lemon and rose, a bit like a box of Turkish delight but less sweet.
This organic cleanser is a thick cream and I use about the size of a 10 pence piece to cleanse my face. I've been using the cleanser for several weeks now in the morning and evening. My skin looks fresh and clean after use and the cleanser isn't at all drying. Despite being very gentle on your skin, it's also effective at removing make-up, including eye make-up.
This is the first time I've used an Odylique product and it certainly won't be the last. When it comes to organic skin care, Margaret and Abi clearly know what they're doing but I also love their commitment to being greener such as manufacturing in the UK and not using air freight to transport their packaging.
If you have concerns that your current favourite cream cleanser contains parabens or palm oil, which is bad news for the environment and wildlife such as orangutans, then I suggest you give Odylique Creamy Coconut Cleanser a try.
Directions – how to use
Apply in gentle circular motions to your face, neck and around your eyes. Remove with damp cotton pads (see my alternatives to cotton wool) or a damp face cloth. I always use an organic muslin cloth.
Ingredients
The following ingredient list for Odylique Creamy Coconut Cleanser was taken from the Odylique website:
Aqua, Cocos nucifera oil*, Olea europaea fruit oil*, Rosa centifolia flower water*, Glycerine**, Cetearyl alcohol, Cetearyl glucoside, Rosmarinus officinalis leaf extract*, Citrus limon peel oil*, Eucalyptus globulus leaf oil*, Salvia sclarea oil*, Lactic acid, Sodium anisate, Sodium levulinate, Sodium lauroyl lactylate, Xanthan gum, limonene* (in the lemon oil)
Plain English: Coconut oil*, Extra virgin olive oil*, Rose flower water*, Non-palm plant glycerine**, Rosemary extract*, Essential oils of Clary sage*, Eucalyptus* and Lemon*, Plant origin moisturisers & emulsifiers
*Organically grown & produced ** Organic origin (total 87%)
Where to buy Odylique
You can buy a wide range of Odylique products from Only Naturals who have free UK delivery on all orders over £10.
Your thoughts
Have you tried this cleanser or any other Odylique products? What did you think? Please post your comments below.
---
Found this website useful?
Please consider donating a few pounds to help me develop this site. Or share this post with your friends and follow me on social media. Thanks for your support!
---