What is Organic Beauty Week?
Organic Beauty Week, part of Organic September, is the Soil Association's annual event to make people more aware of the benefits of organic beauty products beauty. Find out more about Organic September on the Soil Association website.
Follow the Soil Association on Twitter and use the hashtag #OrganicSeptember.
Organic Beauty Week
For Organic Beauty Week which takes place 19-25 September I'm pleased to have teamed up with Big Green Smile, to share with you some great organic beauty products. First up is Odylique by Essential Care Ultra Rich Balm.
Odylique by Essential Care Ultra Rich Balm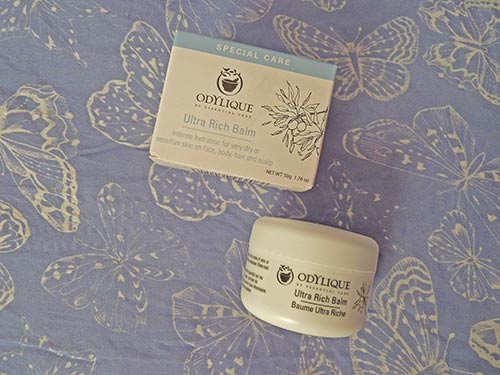 About Odylique
Odylique is a UK company founded which makes its organic skincare and beauty products by hand in their Suffolk workshop, tests on humans and feature in the Ethical Company's Good Shopping Guide.
Packaging
It comes in a plastic pot which is supposed to be recyclable but I'm not sure that it would go into my household recycling unfortunately.  The pot is packaged in a cardboard box which can be recycled in my household recycling collection.
Green credentials
Suitable for vegetarians
100% natural, 100% organic
Soil Association certified
Packaged in recyclable jars that were manufactured in the UK from 100% recycled materials
Be a Shade Greener verdict: Odylique by Essential Care Ultra Rich Balm
Odylique by Essential Care Ultra Rich Balm has been formulated to provide intense hydration for dry and distressed skin. By supporting the skin's natural barrier function the balm helps protect it from the drying effects of heat, cold and wind. It is non-comedegenic so won't block pores. Odylique say that you can use it anywhere on your face or body and that it works well as an intensive treatment for dry hair ends and cracked heels.
The Ultra Rich Balm has a subtle smell of honey which probably comes from the beeswax. As the name suggests, it's a very rich balm so you only need a little which makes it very economical. I had a stubborn, dry, flaky patch of skin on my elbow and this is doing wonders for it. I've also used it on my cracked heels and my face after going for a walk on a rather windy day and am very impressed with the instantly soothing and moisturising results. Generally, I don't suffer with dry skin but this makes a great rescue balm for when I have a dry skin S.O.S. If you spend a lot of time outdoors, this will also help protect your skin from the elements, particularly in the winter.
Odylique by Essential Care Ultra Rich Balm Ingredients
Ingredients:Olea europaea fruit oil*, Butyrospermum parkii butter*, Cocos nucifera oil*, Cera alba*, Hippophae rhamnoides fruit extract
Plain English: Extra virgin olive oil*, Raw Fairtrade shea butter*, Coconut oil*, Beeswax*, Sea buckthorn fruit extract*
*Organically grown & produced (100% of product)
Price and where to buy
£9.50 / 50g
£19.00 / 175g
Buy from Big Green Smile
You may also like…
Your thoughts
Have you tried this balm or any other Odylique products? What did you think? Please post your comments below.
---
Found this website useful?
Please consider donating a few pounds to help me develop this site. Or share this post with your friends and follow me on social media. Thanks for your support!
---