On 02 July, the Victoria & Albert museum in London was the venue for the 10th Observer Ethical Awards in association with Ecover, maker of sustainable and eco-friendly cleaning products.
When an invitation from Ecover popped into my inbox inviting me to attend The Observer Ethical Awards, I was surprised and thrilled. As a Guardian reader I'd been following the awards for a few years but didn't know it had been running for a decade. This year's awards was a very exciting prospect as not only was it the 10th anniversary but also my favourite TV programme, Coronation Street, was up for an award! It was an honour to be invited to celebrate people, organisations and businesses who are doing great things for the environment and social justice. The winners were to be announced at an awards ceremony at London's Victoria and Albert Museum celebrating a decade of ethical awareness with founder Lucy Siegle hosting and activists, sponsors, bloggers and celebrities in attendance.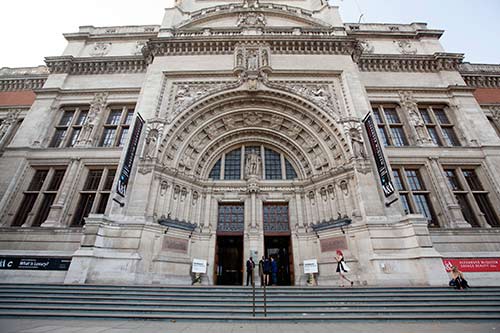 The night got off to a great start, because on arriving at the V&A I saw a group of people having their photo taken which turned out to be the crew and cast of Corrie. Of course, it made perfect sense that David Neilsen, who plays Roy Cropper, the greenest resident on the Street, should be there. Roy says no to plastic carrier bags and instead has his trademark shopper bag which I think he's been using for about 10 years. My excitement wasn't shared by my lovely companions for the evening, Jenna who works in PR for Ecover and Trudi who writes the fab A Lazy Girl Goes Green Girl blog, although they did their best to look interested for my sake.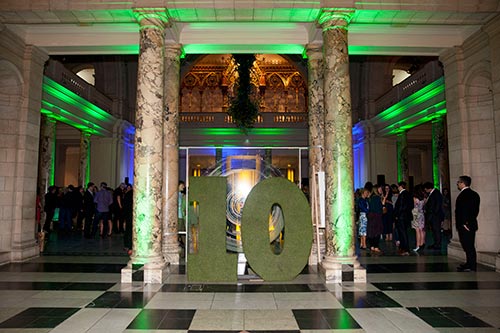 Lucy Siegle, Founder of the Observer Ethical Awards and reporter on BBC's The One Show, was our host for the evening. She commented on how being green and eco-friendly has become more popular:
"The 10th Observer Ethical Awards shows in no uncertain terms that green has gone mainstream. Our judges, including Katie Piper and Deborah Meaden, have awarded across the country from the joyous, free, accessible Festival of Thrift in Darlington to Plymouth Community Energy. The ambition and energy of our winners is typified by Coronation Street, the world's oldest soap opera now on course to become the world's first carbon literate TV production. On and off screen cast and crew are putting their considerable energies into making Corrie a leader of sustainable TV production."
The Observer Ethical Awards winners
And the winner is…
Ecover's Young Green Champions
Andover Trees United – a community project which was developed to create new woodland for all in Andover, Hampshire. The Young Green Champion Award, recognises a young community or school who are making a difference to their local area. Ecover will be supporting the winner's initiative with a £6,000 bursary to continue and build on their great work. It was wonderful to see the next generation of eco warriors proudly declaring how they had helped save the planet in the accompanying video.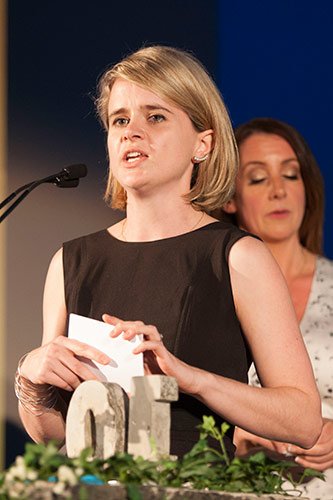 Sarah Tuke said:
"We are delighted to present this award to Andover Trees United for its dedication in restoring and reviving local green spaces. At Ecover we are passionate about looking to nature for inspiration, so we are excited to recognise the hard work Andover Trees United does to help young people learn and care about the natural environment."
Film and television in partnership with Bafta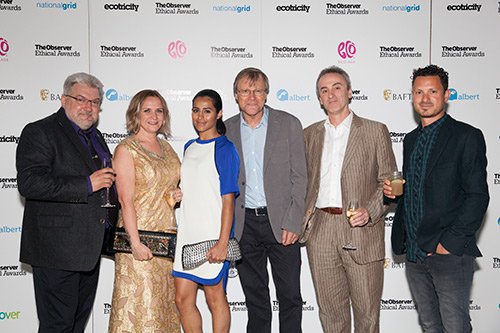 Coronation Street – I was well-chuffed that Corrie claimed the first Film and Television award for the efforts to boost the show's environmental credentials. When Coronation Street moved to a new set, they decided to make it an eco-friendly venture. Various green initiatives have been introduced such as the installation of LED lights in one studio and creating props out of sustainable resources. The series now uses 100% renewable energy. This new category was designed this year to recognise green achievements in the entertainment industry. (It's good to see a soap winning something more worthwhile than the "Best tan and teeth" award.) The team committed to 'produce a television drama of the highest quality with the lowest possible environmental impact'. I won't argue with that.
Campaigner of the year
Emma Watson – Actress and UN goodwill Ambassador Emma Watson was recognised as Campaigner of the Year, specifically for her work with her HerForShe campaign. The winner of this award was chosen by Guardian and Observer readers in what was one of three reader-voted awards.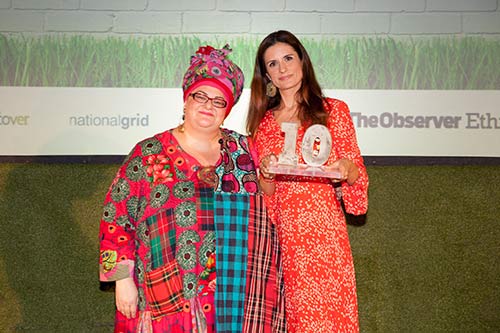 Green Briton of the year
Anna Watson – Creator of Friends of the Earth's 'Run on Sun' campaign which aims to get every school in the UK to be solar powered. She has inspired communities and businesses alike to be proactive when it comes to climate change.
Ethical product of the decade
Riverford organic veg box – A vegetable box scheme founded by Guy Watson. Award-winning Riverford supports farmers and small producers from its base in South Devon. Riverford has four farms across the country and delivers around 47,000 boxes a week.
Ethical wildlife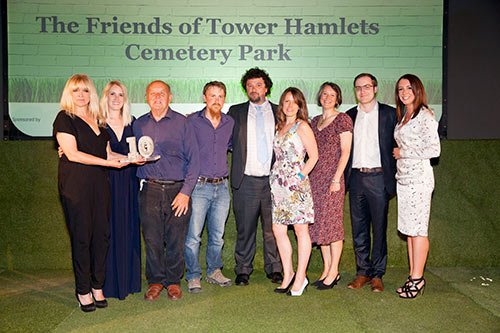 The judges couldn't choose just one winner for this category which celebrates organisations trying to boost local wildlife and protect animals, so the joint winners were:
The Friends of Tower Hamlets Cemetery Park – Covers thirty one acres of woodland in the heart of East London.Cared for by local people, the designated Local Nature Reserve hosts various trees, plants, birds, insects, bats, beetles and butterflies.
World Animal Protection UK – protecting the world's animals through projects designed specifically to help governments and communities across the world take better care of their animals.
Lifetime Achievement Award
Yoko Ono – multimedia artist, singer and peace and human rights activist for her dedication to ecology, peace and human rights. The judges honoured the Japanese-born activist for her dedication to ecology, peace and human rights. The 82-year-old thanked the evening's audience for the recognition over video and said: "I want to thank you for giving me such an encouragement at a time of my life when I feel I am still at the starting point." How amazing that at that age, she feels that she has only just started on her life's work.
Community energy project award sponsored by National Grid
Plymouth Energy Community – a community benefit society established in 2013 with the support of Plymouth City Council.
Sustainable style in partnership with Eco Age
Nudie Jeans – Swedish clothing brand, founded by Maria Erixon in 2001 which makes and repairs 100% organic denim, ethical jeans.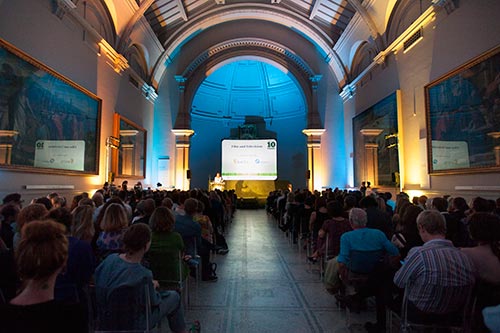 Arts and culture
Festival of Thrift – this "British celebration of scrimping with style" attracts over 40,000 for a weekend of fun and advice on sustainable living. The next one takes place 26-27 September 2015 in Darlington in north-east England.
Food, drink and the end of the night

Pre-ceremony prosecco and a choice of wine after the awards were provided by Borough Wines who have the simple but brilliant idea of using refillable wine bottles to cut down on wastage and Silo Brighton gave us a delicious and ethical menu of canapes. I really enjoyed the event as it was a great and uplifting night out with like-minded people celebrating the effort of people making positive changes to the world in which we live. Just after 10:30 we were politely asked to leave (for the second time!) so we collected our goodie bags full of eco and green products and headed to the tube feeling inspired, uplifted and a little tipsy.
The Observer Ethical Awards for 2016
If you'd like to nominate and vote in the 2016 awards, keep an eye on The Observer's website and maybe I'll see you at next year's ceremony!
---
Found this website useful?
Please consider donating a few pounds to help me develop this site. Or share this post with your friends and follow me on social media. Thanks for your support!
---