I love mince pies but think it's important to choose palm oil-free mince pies or at least ones that contain responsibly sourced palm oil.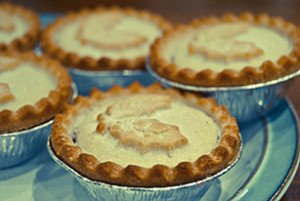 Palm oil-free mince pies
The fantastic Ethical Consumer people have done the hard work for us when it comes to the good, the bad and the ugly food producers when it comes to palm oil. I was really pleased to see that one of my favourite mince pie brands, The Co-op's Truly Irresistible Luxury Mince Pies, are palm oil-free. Ethical Consumer say it's very hard to find brands that contain no palm oil but did manage to find two more which are Waitrose Duchy Organic (also very nice) and Sainsbury's: SO Organic, Taste the Difference Ecclefechan Tarts.
Sign petition against deforestation and stop palm oil exports
Rainforest Rescue have a petition to help stop the destruction of the rainforest taking place for the production of "sustainable" palm oil. Please visit their website to sign the petition and find out more. Rainforest Rescue say:
These and other cases are ample evidence that the RSPO seal is mere greenwashing. It does not prevent deforestation, loss of biodiversity, or even brutal land grabs against indigenous communities.
Ethical Consumer's Palm Oil Guide to Christmas Food
Find out which brands use responsibly sourced palm oil and which companies to avoid in Ethical Consumer's Palm Oil Guide to Christmas Food which also covers chocolates and biscuits.
You may also be interested in…
Photo: Kirsty Andrews
---
Found this website useful?
Please consider donating a few pounds to help me develop this site. Or share this post with your friends and follow me on social media. Thanks for your support!
---