Want a green, eco-friendly Christmas or New Year celebration or party? Here's 10 tips covering food, drink, transport, glasses, sky lanterns and more.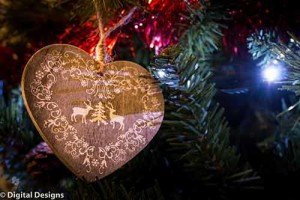 Invitations
Electronic invitations
Nowadays so much communication is via electronic methods so why not send electronic invitations. If you want something more visual you can get free Christmas invitations from companies such as Evite and Paperless Post.
Paper invitations
If only paper invitations will do, use recycled paper or FSC paper. A lovely idea is to use plantable seed paper which is recycled paper embedded with seeds, normally wildflower seeds. So your guests not only receive an invite to your party but they can also plant the paper in their garden and wait for the wildflowers to grow. You can buy plantable seed paper in various forms from Wild about Paper and various sellers on Etsy. Some papers can be printed on too or you can write on them by hand.

Transport
Encourage guests to use walk, cycle or public transport, if possible. If the venue isn't accessible by bus or train organise a coach or minibus to pick people up or suggest people car share which also sorts out the issue of the designated driver. All options will help you cut carbon emissions.
Drink
Local and organic drinks are the most eco-friendly and the range of organic alcohol is getting better and here are some places to start you off:
Organic real ale
Craft beer
Flavourly run a craft beer discovery club where you get a monthly delivery to your door but you can also make one-off purchases from their online selection of craft beers.
Organic cider
Organic wine
Avoid sky lanterns and balloon releases
Sky lanterns (or Chinese lanterns) and helium balloons have been on the news this year as causing fires and the death of farm animals who have accidentally eaten them. Some companies sell so-called environmentally-friendly sky lanterns and balloons but they can't really be considered to be eco-friendly when they can still cause as much harm as their not-so-green equivalents. Would you throw a box of deflated balloons into a field or the sea? I thought not but this is what you are in effect doing if you release sky lanterns or balloons – it's just a form of littering. Help spread the word about the dangers by telling your friends and family. (Read my post Dangers of chinese sky lanterns and balloon releases for more info and alternatives to sky lanterns.)
Crockery, glassware and cutlery
When it comes to plates, glasses and cutlery, the best thing for the environment is to avoid single-use items and choose re-usable products.
Napkins
Use cloth napkins or serviettes or if it has to be disposable then buy some made from recycled materials such as these Renova Green 100% Recycled Paper Napkins (only £0.79 for 70 napkins).
Food
Shop local to reduce your carbon footprint and food miles whilst also supporting local, independent businesses. We like to buy seasonal produce from our local farm shop or farmers' market.  If you can buy organic produce, even better! I find going to our local farmers' market just before Christmas is more of an event with live festive music and stalls selling hot cider and mulled wine.
Leftover food
Recycling and rubbish
Provide a range of bins for guests so rubbish and recycling is separated during the party and not left to you to sort out the next day when you're feeling worse for wear. If you do composting, put out a food caddy or compost bin too.
Candles
Choose ones made from soy, beeswax or natural vegetable-based wax. Paraffin candles are made from petroleum residue and are no good for your health or for the environment. M&J London have a lovely range of fragranced candles in glassware that you can re-use as a tumbler. Read my review to find out more.
You may also be interested in…
Photo: Digital-Designs
---
Found this website useful?
Please consider donating a few pounds to help me develop this site. Or share this post with your friends and follow me on social media. Thanks for your support!
---