A mobile phone designed and produced by putting people and the environment first sounds like an impossible dream. Surely if it could be achieved then one of the big names like Apple or Samsung would already be doing it. Instead it's taken a small Dutch social enterprise called Fairphone to green up the cellphone industry with an environmentally-friendly and ethical smartphone. And no, it's probably not going to last you a lifetime but it will challenge people's perceptions that electronics are disposable items.
The Fairphone plan was to make a batch of 25,000 phones which customers pre-ordered. On 13 Nov 2013 they sold the last item in this batch. I'm really pleased for them but annoyed that I didn't place my order. Fortunately, it's not too late for me, or for you, to own one of these Android phones as I've just seen on the website though that they are going to put a second batch into production for planned delivery summer 2014.
This shows there is a real customer demand for a product that focuses on improving social and environmental conditions, over and above merely improving technological ones.
"By buying this phone, you put social values first and join a movement to change the way things are made".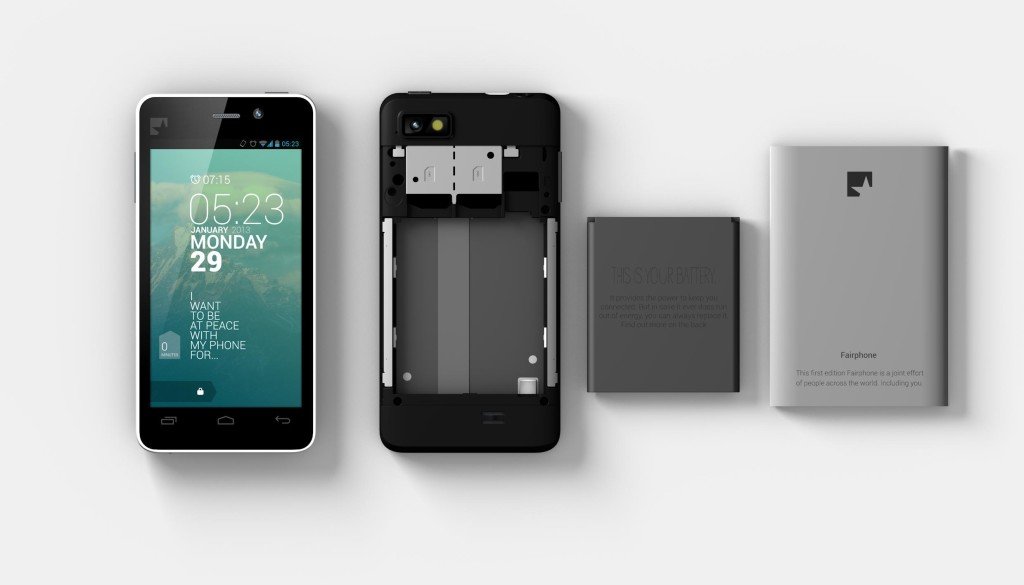 So what's so good about the Fairphone?
This is a phone that is made to last not disposed of once your contract runs out and you get offered an upgrade. I know that for some people it's important to be seen with the latest model of phone but for people who aren't fussed then this will be great.
Fair and conflict-free resources
Fairphone will ensure that the raw materials won't be funding armed forces or violent conflicts. Fairphone contains:
Conflict-free tin
Soldering paste uses tin from conflict-free mines in the South Kivu Province, Democratic Republic of Congo (DRC).
Conflict-free tantalum
The tantalum in the  capacitors is extracted from coltan sourced from Mai Baridi, Kisengo and Luba – conflict-free mines located in the northern part of the Katanga Province, DRC.
Fair wages
Every worker involved in creating this smartphone earns a fair wage. Ultimately, Fairphone want to ensure that employees work in safe conditions that comply with environmental regulations.
Reducing e-waste
Fairphone are looking for better ways to deal with electronics that have reached the end of their lifespan. For every Fairphone sold, €3 is reserved for setting up projects in countries where safe e-waste recycling is not yet facilitated and Fairphone work with Closing the Loop. Fairphone has a phone sell back program and offers spare parts.
Technical specs
Dragontrail glass: Ultra thin and light; super durable and scratch-resistant
Mediatek 6589 chipset: Quad core CPU for faster processing and page loading
16 GB internal memory: For music, movies, apps, games and more
qHD display: 4.3 inches of touch-screen goodness
Dual front/ rear camera: 8 mp + 1.3 mp for photos and video calls
Android OS (4.2 Jelly Bean): Special interface developed by Kwame Corporation (Also open!)
Visit the Fairphone website for the full list of specs plus the list of suppliers.
Smart Design
We want our smartphone to stand the test of time and change the mentality that electronics are disposable. That's why every element is carefully selected for optimum performance today and well into the future.
Dual SIM capability so no need to carry around two phones which for example, will be really useful for people who have a work mobile and a personal one. Also means you don't need to rely on a single network provider. Dual SIM also increases the phone's usefulness during the second phase of its life in developing countries.
easy to repair which I love as repairing is the first option in the 4Rs
comes with a replaceable battery so you can extend the phone's lifespan or boost your power when there's no time to charge. It also makes recycling easier.
Once you buy our smartphone it's truly yours. We've designed it with the firm belief that if you can't open it, you don't own it. See the other smart features we're developing to offer an alternative to provider and manufacturers that define what we're "allowed" to do with the devices we purchase.
Minimal packaging
Chargers & accessories are NOT included
Transparency
Fairphone costs €325 and they've tried their best to show how they reached that figure.
I think what Fairphone's doing is fantastic and hope that other electronics companies will take notice and starting putting people and the environment before profits. Why can't more companies be like this?
Want an ethical mobile network too?

The People's Operator is the mobile network that gives back. Customers save money and make a difference too as The People's Operator gives 10% of your spend to any cause of your choice – at no extra cost to you. You can choose a large, national charity like the NSPCC or The Big Issue Foundation, right down to your local school or community centre.
---
Found this website useful?
Please consider donating a few pounds to help me develop this site. Or share this post with your friends and follow me on social media. Thanks for your support!
---
Further reading