I'm not a great sleeper and often have to resort to ear plugs and always use an eye mask to block out the light which creeps at the top and bottom of my bedroom curtains. As it was coming up to Christmas I set the shopping dream team of my Mum and my Auntie the task of finding me the perfect sleeping mask. I was really pleased and surprised when I unwrapped an EcoTools Relaxing Sleep Mask.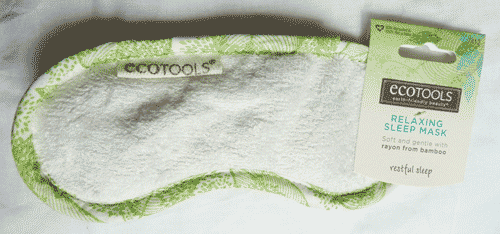 EcoTools Relaxing Sleep Mask
The good
Made with rayon from bamboo, a highly sustainable plant.
Natural materials allow the skin to breathe and help keep it cool. With eye  masks made from synthetic materials, such as satin made from polyester, it's caused the area covered to feel hot and sweaty which is not pleasant.
The mask is towelling and feels very soft and gentle against the skin.
Adjustable strap length which is like the adjusters on a bra so you can ensure a great fit. I've used some which have just had elastic and I must have a big head as sometimes they've been too tight creating pressure on my eyes which isn't really conducive to a good night's sleep.
No velcro which I prefer as velcro fastenings have often caught my hair on snagged on my pillows.
Washable – just hand wash in cold water, do not bleach or iron.
Lightweight and compact shape so great for travel.
No packaging just a card tag made from 80% recycled paper which is 100% recyclable.
My verdict is that this is the best eye mask for sleeping which I've ever tried and is now one of my sleep essentials but I think there are ways that it can become an even greener product. It's also a cheap price so great if you're on a budget.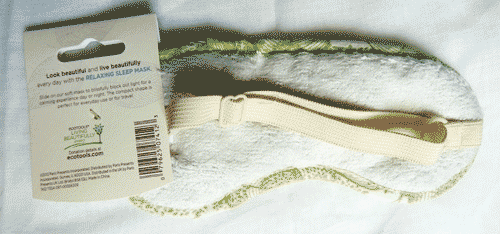 Room for improvement
I think it's great that EcoTools exist and are striving to make environmentally-friendly beauty products but I have a few little niggles about this sleeping mask:
The inner fabric is mainly polyester and the padding is 100% polyester.
Would like it to be made from organic bamboo.
Shame the product information card isn't produced from 100% recycled paper and that it's fastened to the mask with one of those plastic tags. Why didn't they use cotton or something else instead?
Where can I buy sleep masks?
You can buy EcoTools sleeping eye masks online or in the high street at:
I do like to support small and independent shops but couldn't find any which stocked this item. Please leave a comment below if you know of other stockists, thanks.
EcoTools product are available in the UK, US, Canada, Australia and other worldwide locations.
Sweet dreams…
Your thoughts
Do you use an eco-friendly eye mask to help you sleep? Have you got any tips for getting a good night's sleep?
Who are EcoTools?
EcoTools are part of the Paris Presents group and are their eco-friendly brand which includes bath products, beauty accessories, false eyelashes, and make-up brushes plus a range of cosmetics bags designed by Alicia Silverstone.
---
Found this website useful?
Please consider donating a few pounds to help me develop this site. Or share this post with your friends and follow me on social media. Thanks for your support!
---