An eco-friendly wooden toilet brush is ideal for a green home and looks so much better than a plastic toilet brush. In this post I review the eco-friendly wooden toilet brush I use and include some fantastic environmentally-friendly alternatives to standard plastic brushes which can't be recycled and just end up in landfill. The plastic-free toilet brush and bucket shown in the photo above is from Ethical Superstore.
Read more posts related to toilets
Review: Redecker natural bristle toilet brush with stand
This toilet brush is made from untreated beechwood and plant fibre bristles. There are two designs which I've tried. I prefer the design which cleverly includes a small attached inside rim cleaner and the stand has a terracotta removable drip tray. They are made in Germany.
Replacement Natural Bristle Toilet Brush with Edge Cleaner
I bought my first Redecker natural bristle toilet brush with rim cleaner about seven years ago. If you don't want to read the whole of my review, all you need to know that in 2019 I am still using this type of toilet brush. It's the most eco-friendly wooden toilet brush I've found and am very happy with it. As happy as you can be with a toilet brush.
The brush has a rustic look and is plastic-free so is definitely more eco-friendly than the standard toilet brushes you find in most shops. The rim edge cleaner appears to be attached to the main brush by a twisted metal loop. The brush is very effective at cleaning the toilet and the rim cleaner is a really useful idea.
As the bristles are made from natural plant fibres, they are obviously not going to be as durable as plastic toilet brushes. I've seen some reviews on Amazon where the buyer has complained about the bristles shedding and how they thought as it costs more than a plastic one it would last longer. The brush does shed bristles but it's only a small amount. It certainly hasn't stopped me making repeat purchases. I didn't expect it to last forever.
How long does the brush last?
This figure is obviously going to vary depending on how often you use your brush. I use mine several times a week and replace it about every 18-24 months.
When I bought my first brush, I ordered just the brush without a stand. I already had a stand which I thought the brush would fit and it did. But I think not buying the stand which has been designed specifically for the brush could be a false economy.
Someone left a comment in response to this saying that I'm not using my brush correctly and if I did there wouldn't be any water left to drip into the holder. They suggested that I rinse the brush whilst flushing the toilet and then give it a good spin in the toilet bowl so the water doesn't go everywhere. This should remove water and faecal matter. I do use this method now but although the amount of water is reduced there is still a little. It's definitely worth a try!
Do you need to buy the toilet brush stand?
If you're buying just a brush I think you need to have a stand or holder which isn't fully enclosed so that the brush bristles and wooden handle can dry properly. My stand does not hold the brush away from the base and is semi-enclosed. I think over time this shortens the life of the brush. It's damaged by standing in water for too long I think it would be a good idea to buy the proper stand which is designed to extend the life of the brush.
Buy replacement toilet brush from Amazon UK
Lavatory brush with stand
Buy from Amazon UK
Buy from Amazon US
And the great thing is that when it's time to replace the brush, you don't have to buy a stand and a brush as you can just buy replacement brushes.
ecoLiving plastic-free toilet brush & holder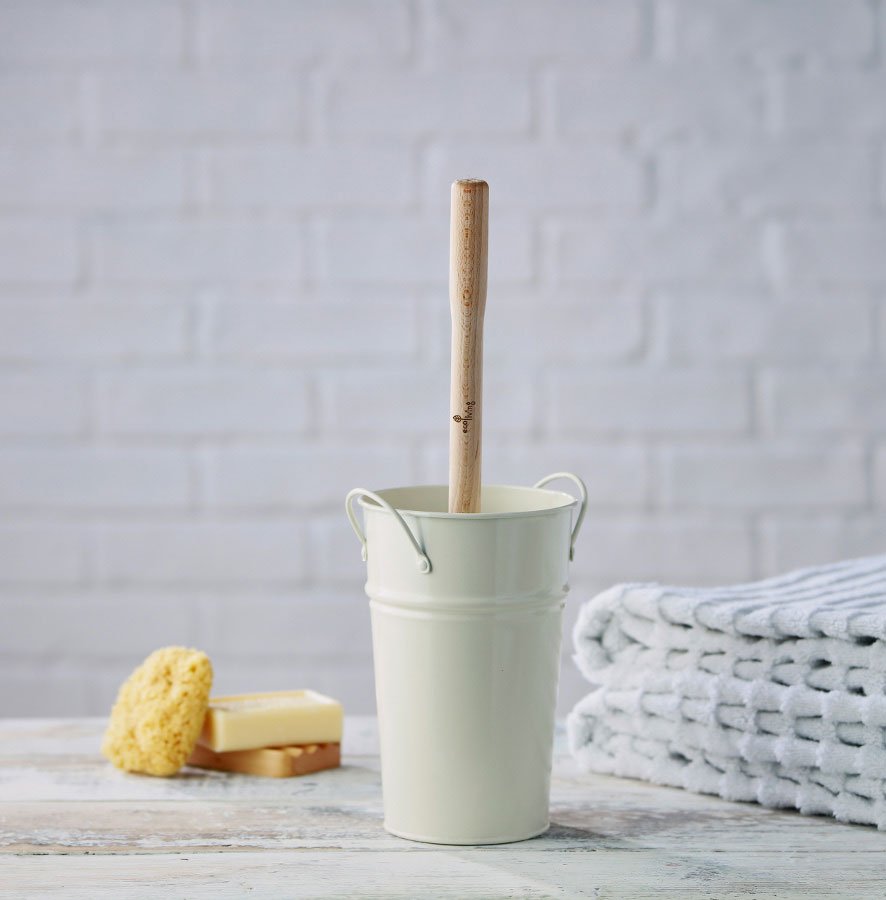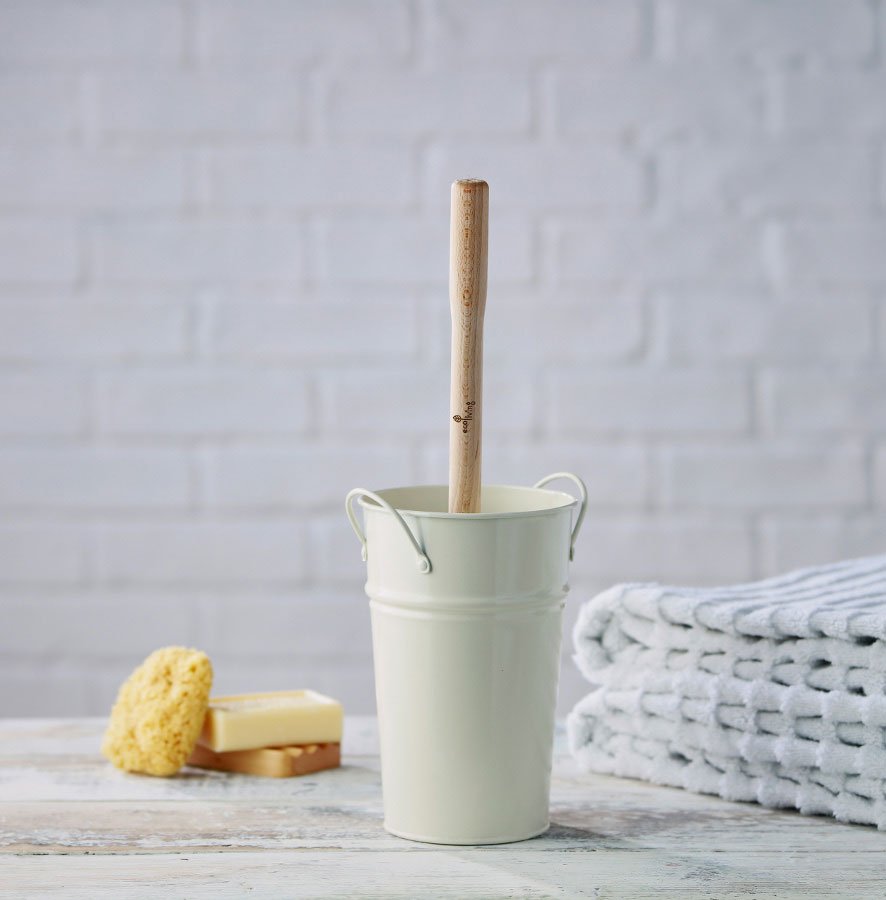 This brush doesn't have the rim cleaner but it's a 100% biodegradable, vegan and plastic-free toilet brush handmade from sustainable materials and locally grown FSC certified beech wood with a vintage style metal holder. When the toilet brush reaches the end of its life, you can compost at home or recycle with your garden waste.
Wooden toilet brush with bucket

This wooden toilet brush with natural union fibre (apparently a mixture of two or more materials – usually tampico and palmyra) bristles comes with a galvanised bucket holder and will make an attractive addition to your bathroom.
Many people like to use a zinc vase to store their brush in such as this one below.
Qiny Toilet Brush, Natural Coconut Fibre Brush Head, Rubber Wood Handle with Cotton Lanyard Cleaning Brush
This toilet brush is made from natural coconut fibre with a rubber wood handle and has a curved brush head which can be deep inside the toilet bowl to clean.
Eco-friendly toilet cleaner
If you're also looking for an eco-friendly toilet cleaner, I recommend Ecover's Toilet Cleaner in Sea Breeze and Sage, which is also available in Pine. Ethical Superstore stock several different brands of toilet cleaning products including Method, Ecoleaf and Bio-D.
You may also like…
Updated: May 2020 Original post: April 2014
---
Found this website useful?
Please consider donating a few pounds to help me develop this site. Or share this post with your friends and follow me on social media. Thanks for your support!
---