There's no need to throw away this dish brush when it needs replacing because you can buy replacement heads for this eco-friendly wooden washing-up brush which is also plastic-free.
In our household, I am responsible for the washing-up. It's not something I enjoy but I do like my eco-friendly wooden dish brush with replaceable head. Apart from the eco-credentials, I think these brushes with their natural plant fibre bristles are superior in their ability to clean and also look far more attractive sitting at the side of my sink than a plastic one. (Although there is an eco-friendly recycled plastic brush available too.)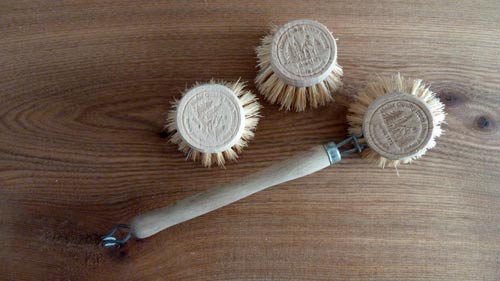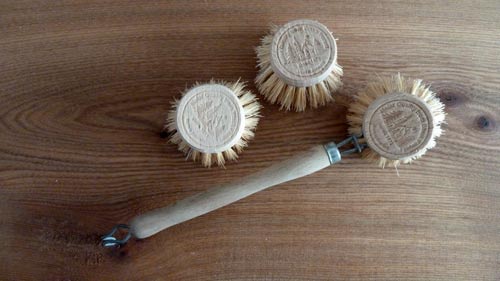 What are the bristles made of?
The natural bristles are made from tampico which is a leaf fibre from a spiny, cactus-like plant that grows wild in the semi-desert upland areas of Mexico. Tampico is harvested from the wild plants and is completely biodegradable. It has an ergonomically-designed handle and comes with a hanging hook for drying or storage.
Buy an eco-friendly wooden washing-up brush
When researching this post, I noticed that there are a quite a few similar looking brushes around but some have bristles made from nylon or horsehair so make sure you check the descriptions carefully. I ended up buying replacement heads which were too small for handle but it was easy to bend the metal loop to fit the new heads. Although it's probably best to buy the correct size if you can.
Hill Brush Company Washing Up Brush & Four Replacement Heads
Redecker Wooden Dish Brush with replaceable head
Alternatives to plastic and nylon washing up brushes
You can also find other interesting environmentally-friendly alternatives on these websites:
There are 20+ more plastic-free products for the home in my post about how to reduce your plastic use.
(Updated: July 2020, Originally published: Oct 2011)
---
Found this website useful?
Please consider donating a few pounds to help me develop this site. Or share this post with your friends and follow me on social media. Thanks for your support!
---