Green Tourism accredited eco holiday cottages in Wales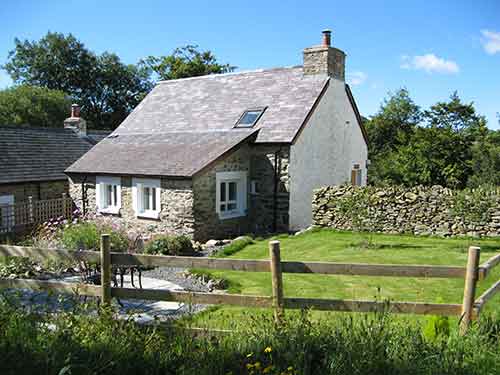 "Our goal is to provide the highest quality holiday accommodation while minimising the impact on the environment. Our principal aim is to run Banceithin and our self catering cottages as sustainably as possible."
Location
If you're looking to visit Wales (and I highly recommend it!) staying in an eco holiday cottage with a Green Tourism award, then Banceithin could be worth taking a look at. Banceithin is a 10 acre smallholding nestled in a peaceful valley near the village of Bethania, in Ceredigion, West Wales. It's ideal for exploring the coast and country as it's located between the Cambrian Mountains to the east and Cardigan Bay to the west.
Accommodation
The two luxury detached self-catering eco-friendly holiday cottages were sensitively renovated from old farm buildings to give you a modern interior which still retains the character and original features of the traditional Welsh stone buildings. I particularly like that these cottages aren't adjoining so are great if you want your own space and privacy. Although sustainable tourism is important to David and Philippa, Banceithin's owners, they feel the cottages aren't just for eco-minded people.
"We have never seen ourselves as some kind of "eco warriors". Our hope is simply that in staying at Banceithin our guests take home not just memories of an enjoyable, relaxing holiday but also some ideas of how to introduce a little "reduce, re-use, recycle" into their own lives. If we inspire them to make bigger changes towards a more sustainable life then that's brilliant!"
Hen Ffermdy cottage (sleeps 2)
This former stone farmhouse is now a comfortable and spacious detached two-person cottage with mezzanine en-suite bedroom and wood flooring throughout. It looks like a love romantic retreat for a couple wanting to get away from it all. You can make the most of the country air and the views over the valley in your private garden with a small lawn and patio, garden furniture, barbecue, and bird feeders for nature lovers. Wildlife enthusiasts should also keep their eyes peeled for the stunning red kites which soar overhead and are on the Banceithin logo. A popular feature indoors is the working 1950s radiogram with a record collection.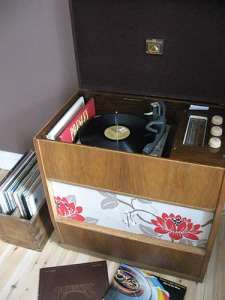 Cwt Mochyn cottage (sleeps 6)
Cwt Mochyn is a barn conversion which sleeps six in a large, detached, single-storey cottage. This time the garden is south-facing garden giving views of their wild grassland area and has the same facilities as above.
Green credentials
Green Tourism Award
Banceithin are Gold members of the national Green Tourism Scheme and their commitment to running an environmentally-friendly holiday business was recognised when they won the Best Self-Catering Accommodation Goldstar Award. They are also members of the Sawday's Ethical Places Collection.
All rooms are furnished with reclaimed furniture of character from Upcyclers.
Organic and Fair Trade bed linen and towels are provided
Vintage Welsh blankets and hot water bottles from Jane Beck Welsh Blankets
Biomass boiler and waste water reed bed
Ample parking space and recycling and composting facilities on site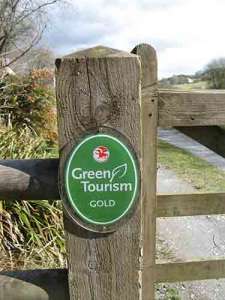 "In 2007, we took some time out from our busy working lives and spent 3 months in New Zealand, where the simpler, slower pace of life made us reassess how we ourselves were living. A year later, we'd quit our jobs and bought a very run down and unloved Banceithin. I don't know that there was a conscious decision to run "an eco-business" but from the very beginning our plan was to reduce our impact on the environment we live in and everything we did in setting up the smallholding, renovating the buildings, and fitting out and decorating the cottages flowed naturally from that, from the big projects like installing the biomass boiler and constructing the waste water reed bed, through seeking out reclaimed furniture and trialling clay paints, right down to the small things like buying compostable j-cloths and pencils made from recycled coffee cups. Achieving Gold member status of the Green Tourism Business Scheme, and then going on to win their Best Self-catering Accommodation Award, was fantastic recognition of our efforts to establish and run Banceithin in a sustainable way. Whilst the certification provides important assurance for those people actively seeking a "green" or "eco" holiday, and may tip the undecided in our favour."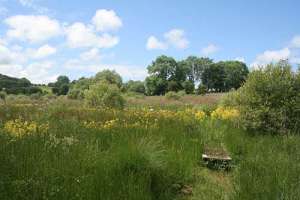 Food
Homemade and local food is important to Banceithin and you can buy on site home cooked meals, plus pork and sausages from their own pigs. Their fresh produce honesty box "Market Stall" sells salad and vegetables from their smallholding, fresh eggs from their own chickens, and home made preserves. You can't get lower food miles than that!
For those items you can't get on site then they're happy to pre-order organic veg & salad boxes, plus organic Welsh bread, milk, butter and cheeses from The Organic Fresh Food Company in Lampeter.
Children's and adult activities
The children and toddlers in your family are well-catered for and there are plenty of opportunities to make the most of being in the countryside. There's a treasure trail for young children plus a treehouse and hammock deck which I'm pleased to hear is "for children of all ages". There is also the chance to help with egg collecting and the farm animals depending on the season. In Spring you can meet the lambs and I love the sound of "pig tea time" which is from spring through to autumn.
If wildlife is more your thing then you'll enjoy the nature guides, binoculars and pond dipping kit. Make the most of the dark skies free from light pollution to look at the stars using the planisphere and telescope.
There's also a giant outdoor chessboard and, if it's raining, you can retreat into the Games Room equipped with dartboard and table tennis table, lockable storage room and washing facilities for walking boots, fishing tackle, bikes and other equipment.
Digital detox holiday
The remote location means you can really get away from it all by taking a break from technology. There is no mobile network coverage on site so you can make this a digital detox holiday and relax in peace without being a slave to your smartphone. You'll probably be amazed how much time you'll gain. If that feels too isolated, don't worry as most networks can be picked up just a short walk away and a coin-operated phone is provided in the Games Room.
I think this sounds idyllic and you can find out more on the Banceithin website. If you've stayed there already, please let us know what you thought.
---
Found this website useful?
Please consider donating a few pounds to help me develop this site. Or share this post with your friends and follow me on social media. Thanks for your support!
---
Take a look