As more and more shops seem to close on our local high streets and in our shopping centres, I think it's important that we support those independent health food shops which still give us the opportunity to have a leisurely browse and get advice from someone face-to-face in person. Internet shopping is easy and convenient but I don't ever want it to be the only way I can shop.
Health shop heroes
In this series of blog posts, I'd like us to share the health and beauty stores promoting natural, organic health and beauty. The first in this series celebrated one of my favourites, Millstone Wholefoods. If you'd like to recommend a shop, or you work in a shop which you think deserves a mention, please leave a message in the comments section or tweet @beashadegreener using the hashtag #HealthShopHeroes.
Stirling Health Food Shop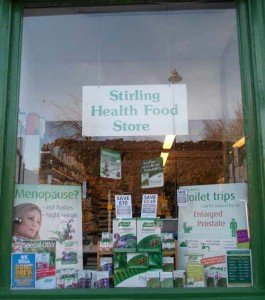 "We are an award winning health store in the heart of Stirling. The shop has been there for over 30 years. Although we are a wee shop, we sell a wide range of supplements and vitamins, over 100 different teas, natural skincare, organic whole foods and a large selection in dietary foods, like gluten free and dairy free. We also sell homebrew supplies.
We are all passionate about healthy living and staying healthy using natural remedies. Our staff can advice you on various subjects, whether it's about glutenfree diets, vegan or vegetarian diets, herbal remedies, homeopathy or homebrew, we all know what we are talking about.
Furthermore the shop offers an ordering service; if a product is not on the shelves, the customer can order it in and we'll do our utmost best to get it within a week.
We recently started selling products online as well, although we still recommend people to come in and speak to us before buying (herbal) supplements.
The owner of the shop, Josine, is mad about growing her own vegetables and likes to chat about everything involved. Even in the monthly newsletter, she blethers about her garden and her chickens.
Or you can come in talking about homebrew, because both Josine and member of staff Silke, make their own beer and wine.
We are a very friendly shop, which cares about customers and puts health before sales."
Product range
Whole and dietary foods – ranges include Booja Booja, Bute Island, Lazy Day and Against the Grain, as well as a wide range of dried fruits, beans and pulses, flour, oats and cereals, grains and seeds. Some items can be ordered in bulk saving you money.
Supplements and remedies – A.Vogel, Solgar, Lifeplan and Nature's Aid
Toiletries, hygiene and cleaning products – natural beauty products from Weleda, Jason and Faith in Nature plus unbleached and organic tampons, sanitary pads, Mooncup and biodegradable nappies.
Have you got a suggestion?
Please share your favourite natural health and beauty shops with the rest of us so we can shop local wherever we are and support our small businesses.
Photo: Stirling Health Food
---
Found this website useful?
Please consider donating a few pounds to help me develop this site. Or share this post with your friends and follow me on social media. Thanks for your support!
---