As more and more shops seem to close on our local high streets and in our shopping centres, I think it's important that we support those independent health food shops which still give us the opportunity to have a leisurely browse and get advice from someone face-to-face in person. Internet shopping is easy and convenient but I don't ever want it to be the only way I can shop.
In this series of blog posts, I'd like us to share the health and beauty stores promoting natural, organic health and beauty. The first in this series celebrates one of my favourites, Millstone Wholefoods. If you'd like to recommend a natural health shop, or you work in a shop which you think deserves a mention, please leave a message in the comments section or tweet @beashadegreener using the hashtag #HealthShopHeroes.
Millstone Wholefoods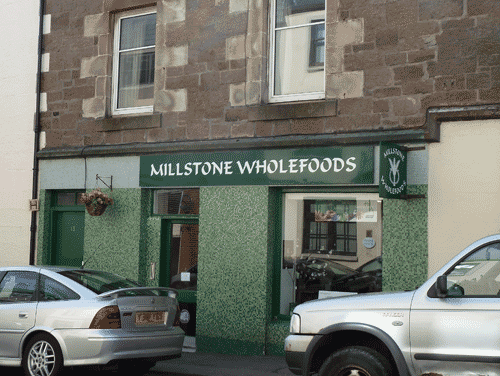 [pullquote]We take pride in our outstanding customer service and always have time for a chat and to be able to offer you informed advice on everything from a range of unique or difficult to find products, to the best tasting products![/pullquote]
Millstone is a locally-owned business in Oban, on the coast in the north-west highlands of Scotland. Whenever I'm in the area on holiday, I always make a point of popping in to stock up on some of my favourite products. It's not a huge shop but they've packed a lot in without it feeling like you can't move without knocking something over. They offer organic food and produce, a wide range of food and health supplements and sell natural foods loose and in bulk at reasonable prices.
Millstone say "we have a great little team at the shop and we try to make shopping and indeed working at Millstone a good experience."
Product range
Millstone Wholefoods wrote "our product range, that is wide and varied, popular with customers at the moment are Dr.Bronner and Absolute Aromas in the bodycare range. Nature's Own and Solgar in the supplements range. Pukka in herbal teas and Ayurvedic care with Inspiral and The Raw Chocolate Co. in our raw foods range."
They also stock a good selection of products including some of my favourite natural beauty brands such as:
As well as health foods, including spices, they also sell some sweet treats from Montezuma's and Divine fair trade chocolate.
Have you got a suggestion?
Please share your favourite natural health, beauty and wholefood shops with the rest of us so we can shop local wherever we are and support our small, independent businesses.
---
Found this website useful?
Please consider donating a few pounds to help me develop this site. Or share this post with your friends and follow me on social media. Thanks for your support!
---