Last month when Faith in Nature asked me if I wanted to review one of their shampoo and conditioner sets, I didn't hesitate. I've been using Faith in Nature products for years and am very impressed with their green credentials, price and performance.
I wanted to try their Lime and Ginger range which is one of my favourite fragrance combinations. Unfortunately, this is part of their new men's range so I had to choose something else! Keeping with the zesty, fruit theme, I chose Seaweed and Citrus. It's not all about the fragrance though. Lemon oil has cleansing and rejuvenating properties for skin and scalp. Seaweed's anti-oxidant properties remove harmful free radicals which aids regeneration and is said to reduce the speed of ageing.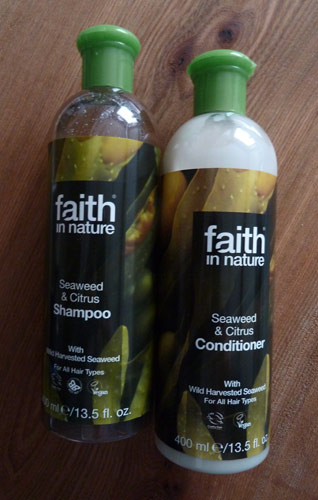 Results
Like the other natural and organic shampoos I've tried, this doesn't lather up loads but it's not a problem as it's not the bubbles that clean your hair. It is something that new green beauty converts will get used to. (I forgot recently to take my own shampoo when staying with a friend and was shocked by the unnecessary masses of lather her non-natural shampoo created and which took ages to rinse out.)
The shampoo is gently effective and leaves my hair feeling clean and soft. I have rather indecisive hair – sometimes wavy/curly, sometimes quite straight and sometimes, annoyingly, a combination of the two.  As a result, I like to work with my hair, not against it, so don't brush my hair and allow it to dry naturally using my wonderful hair turban (see review). I rely on my hair products to allow me to just wash and go so it was great that I found my hair was smooth, a lot less fly-away and shiny. I must admit I'm not great at regularly using a conditioner, but for this review I used it nearly every time (except when I was in a  rush) and found it really made a difference, compared to the shampoo alone.
Fragrance
I love this fresh, invigorating lemon fragrance. My boyfriend liked it too so the scent is suitable for the whole family. It leaves your hair subtly scented which is great as since using natural and organic products I've developed a dislike of the over-powering fragrances which  non-natural health and beauty manufacturers seem to think are necessary.
Ingredients
Faith in Nature are committed to using natural ingredients and all products are vegetarian, and most are vegan. Faith in Nature are members of the BUAV (British Union for the Abolition of Vivisection), and all their products carry their Leaping Bunny logo. Their products contain:
No genetically modified ingredients.
No synthetic colouring or fragrances.
No SLES (sodium laureth sulfate), SLS (sodium lauryl sulfate) or parabens.
No Methylisothiazolinone (MI)
Shampoo
Aqua, Ammonium laureth sulfate, Maris sal, Polysorbate 20, Ascophyllum nodosum powder, Citrus limon peel oil, Citrus aurantifolia oil, Cananga odorata flower oil, Melaleuca alternifolia leaf oil, Potassium sorbate, Sodium benzoate, Citric acid, Limonene, Citral
Conditioner
Aqua, Cetearyl alcohol, Brassica campestris seed oil, Ascophyllum nodosum powder, Citrus aurantifolia oil, Cananga odorata flower oil, Citrus limon peel oil, Melaleuca alternifolia leaf oil, Cetrimonium chloride, Tocopherol , Helianthus annuus seed oil, Sodium benzoate , Potassium Sorbate, Citric acid, Limonene, Citral
Price and where to buy
The shampoo and the conditioner come in large 400ml bottles so you get a lot for your money. You can also save money by buying in bulk and decanting into smaller bottles for the bathroom or travel. This is ideal for larger households or you could club together with friends or colleagues to save you all money plus reduce packaging and transport miles.
Be a shade greener rating (out of 5)




A great green and eco-friendly purchase at a very reasonable price which gives good results.
---
Found this website useful?
Please consider donating a few pounds to help me develop this site. Or share this post with your friends and follow me on social media. Thanks for your support!
---
You might also be interested in…