All hair turbans are not created equal. I've tried a number over the years because when I needed to replace my orginal one, I couldn't find the same make. In desperation, I tried one from the 99p shop and definitely got what I paid for – thin towelling material, small size and no fastening. I bought a Girlfriend hair turban and though better than the cheap one, it still didn't work as well as my first one and was not great quality. Then through the power of the internet I was reunited with my first, true love which is made by Ebody who are part of the amazing e-cloth company. (I'm a big fan of e-cloths so if you're into eco-friendly cleaning, check out my review of their floor mop.)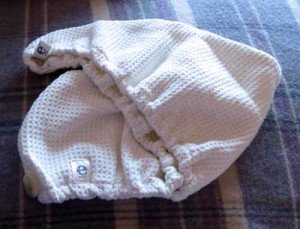 The Ebody Hair Turban is made from special fibres and is designed to dry long hair quickly and effectively. It absorbs three to four times more water than cotton towels and is secured by a button and elasticated loop. It has a self-securing button to hold it in place and is very roomy so should hold even the longest, thickest hair. e-cloth guarantee the turban for up to 300 washes, so although it costs more it will last for ages, compared to its cheaper competitors which will end up in the bin much sooner.
I like to let my hair dry naturally and this is fantastic for speeding up the drying process without having to use heat, so it's kinder to your hair and doesn't use energy. After patting my hair dry with a towel, I pop it into the turban and leave it for about 30 minutes. Whilst wearing I pull out some strands of hair from the front of the turban  it to avoid my hair drying into a rather odd style. When I remove the turban, my hair is still damp but a lot drier than if I'd just left it to air dry or used a towelling turban. I do have a lot of hair though so I imagine the less hair you have the more effective it would be. It would certainly mean that you wouldn't have to spend so long blow-drying your hair which would give you time to do other things like put on your make-up and will reduce the risk of heat damaged hair. I have wavy hair so I don't brush it but just comb through my hair with my fingers and I'm done. The other great thing about the turban is it dries quickly too.
Buy
The e-cloth Ebody hair turban usually costs about £12.99 and you can buy them online from:
---
Found this website useful?
Please consider donating a few pounds to help me develop this site. Or share this post with your friends and follow me on social media. Thanks for your support!
---