Combine an eco holiday with a farm stay by visiting Beechenhill Farm, a rural retreat which has some incredible eco credentials leading to them winning the Lausanne Business School 2015 Sustainable Business Innovation award.

Location
Located in the Staffordshire and Derbyshire Peak District National Park, Beechenhill Farm is in the middle of the beautiful White Peak area. It's handy for visiting Dovedale Gorge and is only 1 mile from the village of Ilam. (Check out the fantastic illustrated map.)
In 1997 we converted to organic farming.  During that process we learned so much about how the natural world is so closely interwoven with our whole way of life that it just seemed the right way to go.  Now it is simply the way we live our lives.
Accommodation
Beechenhill Farm offers various accommodation options:
Beechenhill Cottage (sleeps two)
This former stallion pen has been transformed into a romantic, little retreat for two. It's set in it's own walled garden and offers you a peaceful oasis. You can spend cosy evenings by the real fire with your loved one.
An eco-friendly wood pellet biomass boiler provides full central heating and gives you plenty of hot water for a refreshing shower after a long country walk.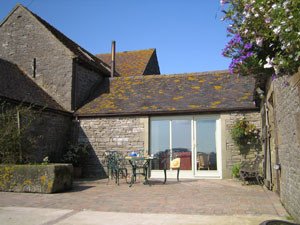 The Cottage by the Pond (sleeps six, wheelchair accessible)
Once a milking barn, the Cottage by the Pond is now a wheelchair accessible cottage with a large sitting room /dining area where you can enjoy views over the walled pond and to the rolling farmland beyond. It also benefits from the biomass boiler.
They also offer:
Organic farm B&B for two, four or six people
the whole farm for a reunion or family get together of up to 14 people
Read: more eco holiday ideas
Food and drink
When you book your Beechenhill Cottage, you can order from a list of groceries:
Homemade organic bread
Local pork sausages and bacon
organic butter
Beechenhill Farm organic eggs or local free range eggs (depending on availability)
Locally-produced ready-meals
During your stay you can have organic milk delivered to your door, fresh from the cow and you can also collect your own eggs.
As a real ale drinker, I love to try out local beers so it's great that they have a small licenced bar in the Haybarn, selling organic fair trade wines, local organic lager, organic cider and local ales.
Activities
There is a farm trail, website and book that interprets and explains the farm which enables guests to feel involved and informed. Beechenhill is all about making the most of the beautiful countryside and getting back to nature. Their 18 Top Things to do at Beechenhill Farm- CHILDREN ONLY! list has some great ideas and most of them won't cost you a penny. Suddenly I now have a great desire to roll down a hill…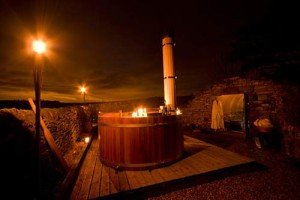 There's an outdoor hot tub for hire which is apparently great for star-gazing on a clear night and a wood-fired barrel sauna.
Green credentials
Beechenhill are passionate about being eco-friendly and you can see that from just some of the awards they've won:
Peak District Environmental Quality Award
Gold Green Tourism Business Scheme award
Finalists in the Global Virgin Responsible Tourism Awards in 2009 and 2012
Environmental Business Award in the Sentinel Business Awards in 2012
Gold award for sustainable tourism in the Visit England Awards for Excellence 2013
Green Hotelier 2013
Energy
We have a 'before' Carbon footprint calculation of 41 tonnes calculated by Marches Energy Agency. We recorded the fuel usage in each cottage (previously electricity and oil in The Cottage by the Pond for six people and just electricity in Beechenhill Cottage for two). Before the installation of the new system, guests would be using an average of 150 units of electricity per stay per cottage, since installation they are using less than 15 units per stay and no oil.
Beechenhill have achieved this incredible reduction through methods including:
Low energy lighting
PIR sensors on all public lighting – ensuring no waste of energy and no unnecessary light pollution.
Biomass (pellet) boiler
Solar PVs, 2 x 4kW arrays – innovative lightweight solar PV film, generating 14% more electricity per Kwp than conventional panels.
Under floor heating
Insulation using local sheep wool and lime plaster
Induction cooker – reduced energy and carbon cost
All accommodation is double glazed and has wooden window shutters
Transport
Electric bikes for hire
Electric car – they have the first electric car charging unit in the Peak District
Guests can be collected from the bus station and their bikes stored safely

Water
Rain water harvesting – Rain water flush in three toilets in two cottages and two toilets in the Haybarn wedding barn
Water from the south roofs is collected and feeds a restored pond (traditional mere) home to a colony of great crested newts which are a European protected species
Eco cleaning products and recycled paper products
Recycling and composting facilities for guests and all farm waste
Our mission is to please you, so that you return, in a way that pleases the planet and pleases us too.
Wildlife
There are bird boxes and wild birds are regularly fed, in particular a large flock of gold finches that over winters on the farm.
The family have planted 250 indigenous trees in 1985, 1000 trees in 1993, 500 trees in 2009.
a restored pond (traditional mere) is home to a colony of great crested newts.
Find out more about Beechenhill Farm
If you want an idyllic farmstay holiday to explore the Peak District, then take a look at the Beechenhill Farm website.
---
Found this website useful?
Please consider donating a few pounds to help me develop this site. Or share this post with your friends and follow me on social media. Thanks for your support!
---
You may also be interested in