A staggering 73 million inhalers are used in the UK every year, for asthma and other respiratory conditions but did you know that you can recycle your inhalers?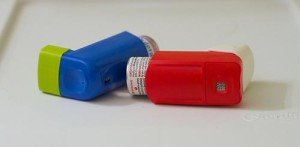 GSK started their pilot recycling and recovery scheme in the UK in February 2011. By the end of February 2015, over 425,000 inhalers had been collected, giving a CO2 equivalent saving of more than 3,000 tonnes. o facilitate the responsible recycling and disposal of all inhalers – not just those manufactured by GSK.
Find a pharmacy near you
Old inhalers can be taken to participating pharmacy. There are over 2,700 pharmacies involved so far and more are expected to sign up soon. See GSK's Complete the Cycle web page to locate a pharmacy near you.
Photo: Alan Levine
---
Found this website useful?
Please consider donating a few pounds to help me develop this site. Or share this post with your friends and follow me on social media. Thanks for your support!
---