With plastic pollution being a growing issue, you are probably trying to reduce your plastic use. You can start by looking at ways to live without plastic. Here's some simple ideas to get you started on your mission including plastic-free alternatives for common items you use in your daily life such as shopping bags, sanitary products for periods, food and drink containers, clingfilm alternatives and more.
Reusable shopping bags
With the introduction of the plastic bag charge, there's even more reasons to take your own bags when you go our shopping. There are lots of great alternatives to plastic bags made from various materials.
Jute bags
Jute is a popular choice for reusable bags as it's a natural fibre that is 100% biodegradable and recyclable. It's strong and durable so great for the weekly shop. This cute sheep bag is made by fair trade producers has been hand-screen printed in India. Or those long-handled string bags that I remember we used to use in the 80s
Bags made from recycled plastic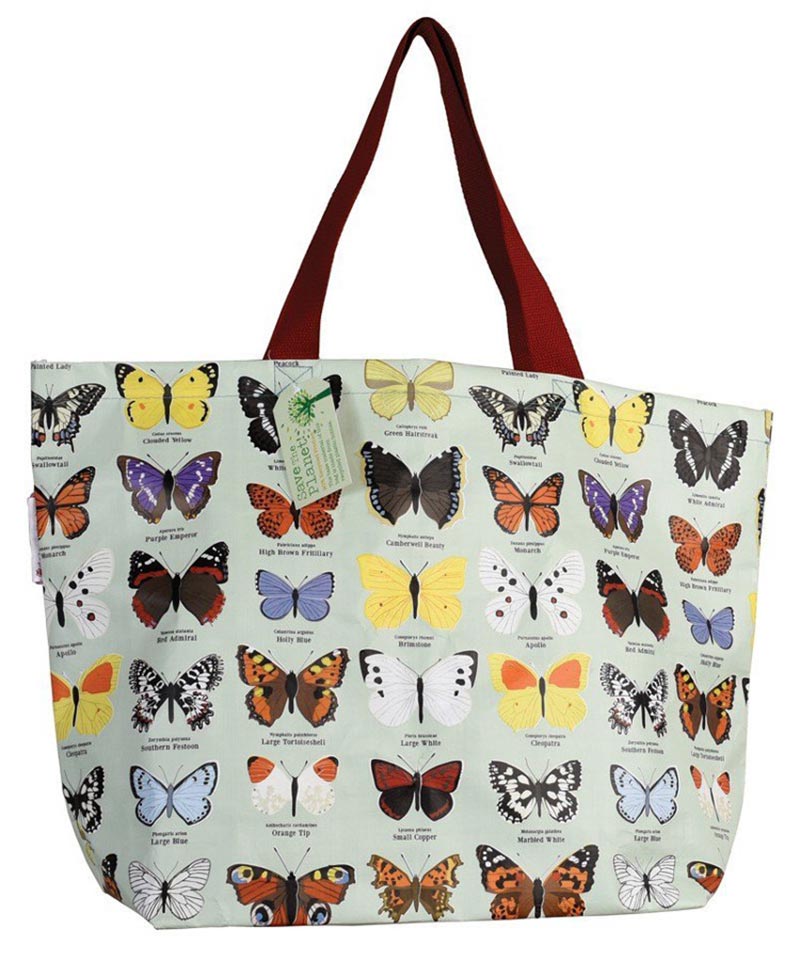 OK, this is made of plastic but it's made from recycled plastic bottles. Sometimes, I think you really need a waterproof bag so if that's the case then a this is a greener option. You can buy this pretty butterfly bag from Ethical Superstore.
Reusable produce bags for fruit and veg
Produce bags are those flimsy little bags that supermarkets provide for your fruit and vegetables. The first thing to consider when you're buying fresh produce is do you actually need a bag. We find that most items are fine without a bag. If you do like to put your items in a bag, why not buy a set of reusable produce bags which are also breathable and can be used to store your items in the fridge or wherever. You can buy these from my lovely friend at Handmade Tales or Ethical Superstore.
Use soap bars instead of shower gel and shampoo
Replace bottles of shower gel and shampoo with plastic-free soap bars. Lush sells these and you can also buy them from green online shops including Ethical Superstore which has this Friendly Travel Hair and Body Soap Bar. You can also buy shampoo bars from The Natural Soap Company. Beauty Kubes come in boxes of 27 individual cubes and you use one cube per hair wash which works out equivalent to a 250ml bottle of shampoo. Find out more at Planet Organic.
Toothbrush

An eco-friendly alternative to standard plastic toothbrushes is one made from bamboo. This Georganics toothbrush is made from sustainable and biodegradable bamboo which is also naturally antibacterial. The bristles are made from BPA-free nylon-6 which is still plastic but this green switch will reduce your plastic use.
Dental floss
It's always seemed to me that dental floss containers were an unnecessary waste of plastic. It's great to see that someone has come up with plastic-free container which you can buy refills for. Georganics dental floss is made from sustainably grown bamboo and comes in a zero-waste glass container featuring a metal dispensing lid which allows you to easily cut the floss to size. The refills are packaged in a biodegradable kraft paper box. Check out the dental floss range at Ethical Superstore.
Interdental brushes (Tepe brushes)
I use Tepe brushes every day so I was really pleased to discover that there are alternatives to Tepe interdental brushes with a handle made from bamboo instead of plastic. The Humble Co. have a range of different sizes and they were actually cheaper than the Tepe versions. I discovered mine in Boots but you can also get them from The Plastic Free Shop.
You might also like to read my review of my favourite toothpaste, Weleda's Plant Gel Toothpaste.

Have your milk delivered to reduce your plastic use
When I was a child, we always had our milk delivered by the local milkman. Most people now buy their milk at supermarkets but there are still milkmen around. The milk is delivered in glass bottles which are collected and re-used. See if there's a milkman in your area on Find Me a Milkman.
The average Londoner buys three plastic water bottles every week, which means 175 plastic bottles per person, per year. Across the UK, the numbers get even more alarming: an estimated 7.7 billion plastic bottles are bought every year, contributing to the problem of plastic pollution in our oceans.

MCS, March 2018
Don't buy bottled water
This is such an easy thing to start doing and will save you money too. All you need to do is buy a refillable water bottle and download the Refill app or look for the Refill signs. Refill is a nationwide scheme providing a network of points offering the public free tap water in the UK. The network includes high street retailers, cafes, restaurants, other businesses, museums, and local authorities. The scheme aims to prevent waste created by single-use plastic water bottles, as well as increasing the availability of quality drinking water.
If you end up buying a refillable plastic water bottle, you will still be making a big difference to the amount of plastic you use. Even greener is a water bottle made from another material such as this stainless steel drinks bottle which can be used for hot and cold drinks.


Plastic-free periods
I hadn't really considered how much plastic is used in sanitary towels before and when you think about how many women are at the age of having periods, that amounts to a lot of plastic waste. I now use TOTM organic tampons and sanitary towels. Their products are plastic-free and so is the packaging. And, of course, I never flush my sanitary items down the toilet as it can cause blockages. Always bag it and bin it. Find out more about TOTM (Time of the Month) who also sell menstrual cups and read my review.
Travel mug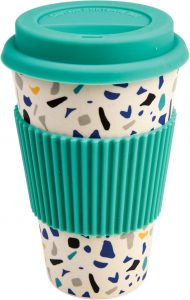 Instead of going to your favourite cafe and getting a takeaway tea or coffee in a single-use cup, take your own travel mug. Not only will you reduce your plastic use, you will often find that you're rewarded with a discount too for using your own mug. This eco-friendly Terrazzo travel mug is made from bamboo fibre with a silicone lid and sleeve which means it's completely plastic-free.
Use a lunch box
Taking packed lunches to work or on days out, can be a cheaper and healthier option than buying lunch out. Make sure you don't pack your lunch using single-use items though such as cling film, foil and sandwich bags. The greenest option is to use a reusable sandwich box. Many of these are plastic which will still reduce your use of plastic but it's possible to get plastic-free or almost plastic-free lunch boxes too.
Natural Collection has a wide range of lunch bags and boxes including lunch bags made from recycled plastic bottles, stainless steel boxes and a great alternative to clingfilm and foil called Abeego. This is an organic and sustainable food wrap made from hemp and certified organic cotton coated with tree resin, jojoba oil and beeswax.
Carry your own cutlery and straw
There's been a big campaign asking people not to use plastic straws and many businesses now offer customers paper straws instead. Do you really need a straw? If yes, are you able to use a reusable straw alternative? Straws are made out of all sorts of materials such as metal, glass, silicone, wheat and bamboo. Take a look at the plastic-free straws available from Planet Organic and Natural Collection.
Take your own cutlery with you and you'll won't need to use a single-use plastic knife, fork or spoon. The Bambu Bamboo Spork is a cheap reusable alternative to a fork and a spoon. If you want a proper cutlery set with a knife too, take a look at this stylish metal Black+Blum Cutlery Set & Case.

Don't use lighters
If you smoke or use lighters for anything, try replacing them with matches instead.

Your tips for how to reduce your plastic use
I hope this post has given you some ideas of how to reduce your plastic use. If you've got any other ideas, please post them in the comments below, thanks!
---
Found this website useful?
Please consider buying me a coffee to help support my site's running costs. Or share this post with your friends and follow me on social media. Thanks for your support!
---
You may also like…