Ecozone's Magnoball is a chemical-free and scientifically proven method to prevent limescale build-up in washing machines and dishwashers.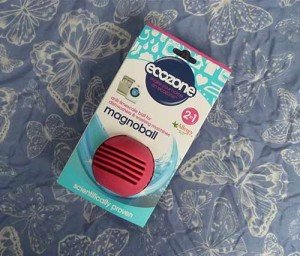 How does Ecozone's Magnoball work?
Research has shown that when water's treated magnetically, calcium carbonate flows freely out of the appliance and therefore limescale doesn't form.  Magnoball is an anti-limescale ball containing a powerful magnet which causes limescale particles to crystallise in the water so they don't settle on your clothes or block the pipes in your dishwasher or washing machine.
As I'm trying to cut down on the number of chemicals in my home, I've just bought one of these to go in my new washing machine which I'm getting next month so can't give you my verdict yet. I've had good results with Ecozone's Magnoloo which works on the same principle so am confident it will work.
Read: How to prevent & remove limescale in your toilet
The benefits of using a Magnoball
Save money as you'll no longer need to buy anti-limescale tablets, such as Calgon, to soften your water.
Save money as you will be able to use less detergent.
Reduce energy costs as you can use a lower washing temperature and still get your clothes or dishes clean.
Where to buy Ecozone Magnoball
Have you tried Magnoball?
If you've tried a Magnoball in your washing machine or dishwasher, please let me know your thoughts in the comments below. I've read lots of good reviews on various websites so hopefully it worked for you too.
---
Found this website useful?
Please consider donating a few pounds to help me develop this site. Or share this post with your friends and follow me on social media. Thanks for your support!
---