Soya wax candles have become very popular but if you want to support an ethical company, check out M&J London who produce a range of scented soya wax candles in the UK using recycled materials and eco-friendly packaging with a beautiful winter fragrance range ideal for Christmas.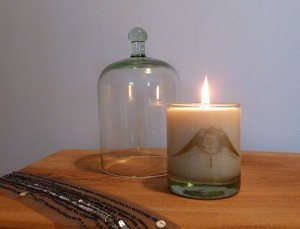 What makes M&J candles so special?
Well, put simply it's the ladies behind M&J who have put their ethical and environmental beliefs into each candle.
M&J was founded of a desire to create products of style and beauty, while building a business that holds true to ideals of integrity and fairness to other people and to the environment as a whole. Each of our products is designed and developed with the aim to tread as lightly on the planet as possible and do business in an ethical manner.
Soya wax
The wax is made from 100% rainforest-safe soya. Soya wax is a renewable green resource that can be replaced at a rate comparable or faster to the rate of consumption. The soy wax is also GM-free and pesticide-free so it burns cleanly and doesn't leave a harmful sooty residue behind. This also means you don't get unattractive black marks on your candle or the holder. Poor-quality and cheap scented candles can create soot and affect the air quality of your home and I certainly  to breathe in harmful chemicals.
Lead-free wick
I didn't even know that some candle wicks are made of lead but M&J have opted for a much safer alternative using linen and cotton.
Recycled glass container
I love that each candle is in a 100% recycled European glass container. It's great that so many of us now recycle but it's just as important that we buy products made from recycled materials. The glass can be "up-cycled" and reused again as a drinking tumbler so it's like buying a candle and getting a free glass. Re-use is better than recycling and you just wash it out with warm soapy water.
Recycled glass cloche
The cloche made from recycled glass is a new idea from MJ and so useful. It's a lovely, simple design which I think will look at home whether your style is country cottage or contemporary. I use mine to protect the candle from dust and dirt when I'm not using it. Dusty candles are not an attractive addition to your lounge. You could also use it to display and protect a special keepsake or ornament.
Fragrance
M&J's scents are developed from bespoke blends of fragrances, which are created by a perfumer. If they all smell as good as Celtic Fire and Samadhi (my favourite summer candle from M&J) then he or she is worth every penny. M&J have decided to use a combination of essential oils and aroma compounds because their research has shown that this is far more ethical and fair than the way in which many essential oils are sourced. I chose Celtic Fire because I thought it would remind me of holidays in the Scottish Highlands with its blend of cedar, pine and peat. The scent is lovely but quite sweet and not as earthy as I was expecting so don't worry as your home won't smell like a forest.
M&J have introduced an autumn/winter fragrance range for their candles:
Celtic Fire – Pine, Peat &  Cedar
Tbilisi – Pomegranate, Tarragon & Walnut
Bavarian Winter – Cinnamon, Vanilla, Cloves & Blackcurrant
Packaging
Just opening the box of this candle was a pleasure because of the gorgeous gold and green art nouveau print design. As well as looking gorgeous enough to sit on your dressing table, this outer packaging is produced and certified by the World Land Trust. Boxes are printed with vegetable-based ink and covered with water-based coatings. M&J only use  boxes and wrapping that they have received with deliveries of the raw materials. They also have a combination of bubble wrap, paper, and shredded paper that they reuse for packing and sending out orders. They never buy bubble wrap or any plastic wrapping. They were also pleased to tell me they have started using eco-friendly tape for packaging.
When they sell the candles in person, they use recycled  bags &  recycled tissue paper plus all the paper, business cards, post cards and compliment slips are also recycled paper. M&J also work with a great printer in the UK, called ecoprintuk.com. I don't think there's any doubt that M&J candles are committed to running a greener business.
Burn time
Candles are available in two sizes:
Large candle: burn time of around 60 hours
Small candle: burn time of around 30 hours
Where to buy M&J London candles
Charity
M&J London donate £1 from every sale of a large candle and 50p from each small candle or cloche sold to a women's charity. They used to support Eaves but unfortunately, this charity recently closed down and they are looking for a replacement.
Be a shade greener verdict
M&J London are aim to run a sustainable and ethical business means they have put a great deal of thought into every decision they have made. The result is an eco-friendly aromatherapy-scented candle which proves that being green doesn't mean you can't treat yourself to a little luxury too. If you like to shop local and support UK business you will like that they are made in the UK and hand poured in London. The candle smells absolutely beautiful even when it's not lit. If you want to buy a natural soy candle as a gift for a friend or yourself, I recommend that you check out these.
Samples kindly provided by M&J London.
---
Found this website useful?
Please consider donating a few pounds to help me develop this site. Or share this post with your friends and follow me on social media. Thanks for your support!
---