Sleep plays such an important part in your health and wellbeing that finding natural ways to sleep faster and longer. Sleep can be disrupted through things like sound, light and thoughts. These are my good sleep hygiene tips which work for me and I hope you find some of them useful whatever your sleep issue are.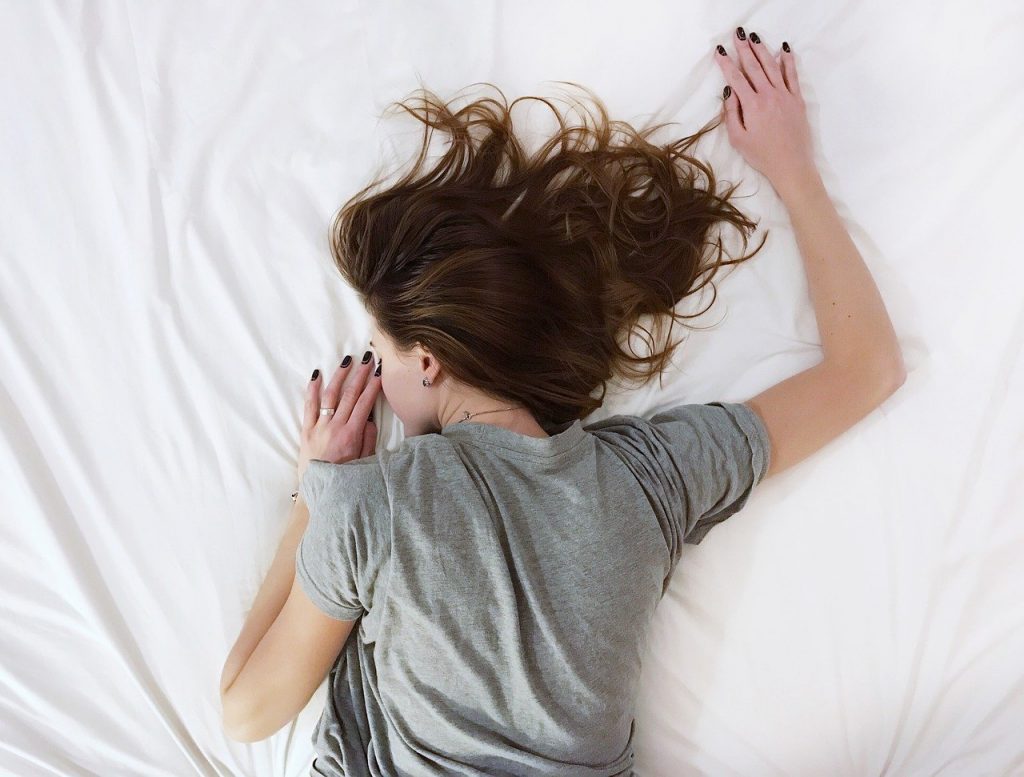 Dodow sleep aid device
I'm not exaggerating when I say that this sleep aid device has changed my life. My friend told me that she bought one for her husband as he had problems falling asleep. Since using the Dodow, he was falling asleep much better and longer. I thought I'd give it a go as I'd often be awake over an hour after I'd gone to bed. Getting more frustrated as I listened to my partner happily snoring away.
What is Dodow?
The Dodow has been scientifically designed to quickly soothe your brain activity, slow your breathing and relax your body. The light metronome re-educates your brain to fall asleep faster and instantly improves your natural sleep habits.
The battery-powered device has two modes so you can choose between 8 minutes and 20 minutes. A blue light appears on the ceiling and you gently synchronise your breathing with the light. Really easy to use.
Inhale when the light expands.
Exhale when the light retracts. The exhalation is deliberately longer to help create a sensation of tiredness which is conducive to falling asleep.
Sleep
At the end of the exercise Dodow switches itself off. Hopefully, you'll be in the ideal body state to fall asleep naturally, in whatever position you like. It's a great natural way to fall asleep faster without the aid of medication.
Does Dodow work?
Yes, you could count this but I find it hard to count and properly focus on my breathing. The Dodow makes it really easy as I just focus on the light and my breathing is gradually slowed from 11 to 6 breaths per minute throughout the session which would be even harder. The light is also good for calming my busy mind as it distracts me from the thoughts that normally keep me awake. Sometimes I fall asleep before it's turned itself off but most of the time I'm still awake but fall asleep soon after it's switched off. The light is dimmable so it won't disturb your partner. As I'm very short-sighted, I thought I might not be able to see the light without my glasses but I can see it fine.
So this is the main thing I recommend as it's had the most positive effect on my sleep and my life. I use it nearly every night so the cost per night over a year is just pennies. Well worth it and it should last much longer than a year.
Progressive muscle relaxation – natural ways to sleep faster
Progressive Muscular Relaxation (PMR) is useful for relaxing your body when your muscles are tense, perhaps as a result of stress. This relaxation involves tensing up a group of muscles so that they are as tightly contracted as possible, holding them in a state of tension for a few seconds, and then relaxing the muscle. Doing this as I lie in bed has helped me relax and fall asleep faster too.
I listen to a free recording made by Newcastle upon Tyne Hospitals which is really effective. Quite often I fall asleep before the session has ended. The audio hasn't been created to help you sleep so at the end they talk about opening your eyes but I just ignore that bit. This is something that you can do at any time of day. I've included the link for the male voice version but there's also a female version, if that's what you prefer and a shorter version.
Before you listen to this audio material, please read the associated information carefully as progressive muscle relaxation is not suitable for everyone.
Ear plugs
I'm a really light sleeper and am affected by the slightest sound so I use ear plugs every night. The best ones I've found so far are Pluggerz. They cost a bit more than some ear plugs but are a clever design which means they are brilliant at blocking out irritating noises butI also hear my alarm clock in the morning.
Sleep mask
After years of buying disappointing sleep masks to block out the daylight in the summer mornings, I found this amazing sleep mask from La Aquarelle which is made from natural materials and coloured with natural dyes. They look beautiful and the design is perfect. Using this mask means I can even sleep during the day with the curtains open.
Balance Me Sleep Hyaluronic Mist
Without a doubt, this is the best sleep spray. It's a 2-in-1 combining a sleep spray with a moisturising skin treatment for your neck and decolletage. Genius! Hyaluronic acid hydrates and plumps your skin and a blend of Hemp Oil and high-grade essential oils calm and relax you. It smells gorgeous too. The only minor drawback is that I found when it dried a little tacky so would need to wash it off in the morning. It's only a little issue though and I would buy it again.
---
Found this website useful?
Please consider donating a few pounds to help me develop this site. Or share this post with your friends and follow me on social media. Thanks for your support!
---
Lumie Sunrise Alarm Clocks
This is another thing that changed my life but for waking up, not falling asleep. I'm not a morning person at all and find being jolted awake from a deep sleep by a sound very annoying. It would mean I'd start the day off feeling pretty fed up. I managed to convince my boyfriend that we should buy an alarm clock from Lumie. Instead of waking you up with sound, a light gradually comes on to give the effect of a sunrise gently waking you from your slumber. I never want to be getting up at 7am to go to work but at least now I feel better about it. On the one we have, there is a backup alarm sound just in case, we don't wake up through light alone.
You can also use the Lumie sunrise clocks to help you fall asleep as you can turn the light on full and then when you switch on the alarm, it gradually fades like a sunset. This helps your body get ready to sleep.
I can't recommend these alarm clocks enough. There are different models to whatever your budget. My boyfriend was sceptical at first but even now he loves it. Obviously, it doesn't work for me during the summer when I'm using my sleep mask because my sleep mask is so effective! But it wakes up my boyfriend who then wakes up me.
Buy from John Lewis, Amazon or you may be lucky enough to find a refurbished model at a cheaper price on the Lumie website.
Apps
There are loads of different smartphone apps available whether you want to meditate or just listen to relaxing sounds. My favourite is Rain Rain Sleep Sounds. This is a collection of sounds such as rain (lots of variations including rain on a tent, city rain and more), ocean waves, wind, streams, crickets, cats and even a washing machine. There's a lots of free sounds available but there are some premium upgrades too.
Have you got any ways to naturally fall asleep faster?
I hope you find these good sleep hygiene tips useful. If you've got any good sleep hygiene tips, I'd love to read them. If you try any of these, let me know how you get on. Please post in the comments below.