Evolve was a new brand for me back in 2017 when I was pleased to be asked to try a new product, Evolve Daily Defence Moisture Mist.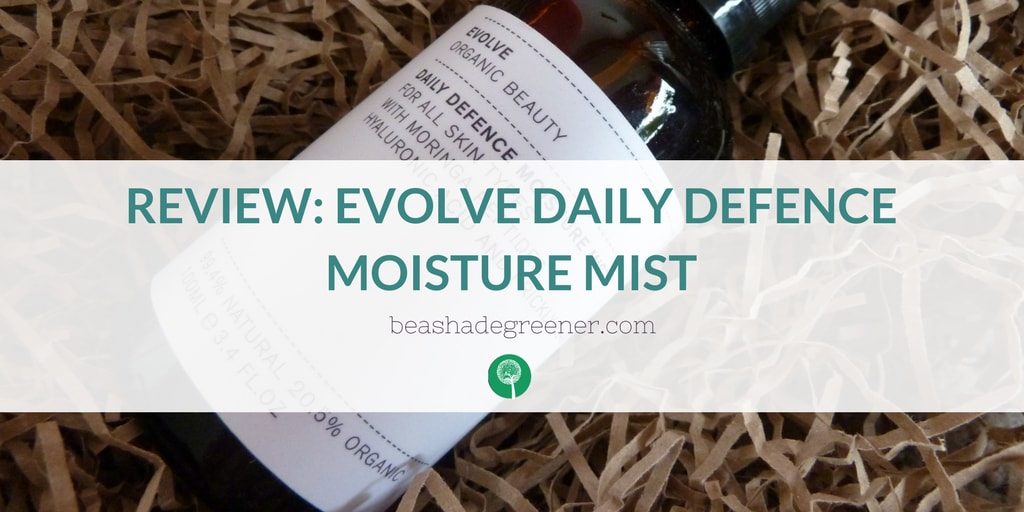 About Evolve Organic Beauty
Evolve is an artisan producer of organic and natural skin, body and hair products. They handcraft their range using natural and organic oils, butters and natural superfoods sourced from around the world. They also make a popular alcohol hand sanitiser.
Packaging
The toner comes in a brown glass bottle with a screw-top lid and a spray lid. The bottle was then packaged in a cardboard box. Both the bottle and box can be recycled or I might re-use the bottle.
Green credentials
Vegan and cruelty-free
Products don't contain parabens, SLS/SLES, phthalates, synthetic fragrances or colours
Products contain natural and organic oils, butters and natural superfoods
Made in small batches to ensure the highest level of freshness
Be a Shade Greener verdict
Admittedly, toners aren't one of the beauty products that I get really excited about. But this toner offers a lot more than just being a refreshing spritz on a hot day. Evolve Daily Defence Moisture Mist is also a skin treatment packed with natural and organic ingredients. Organic Mexican cactuses' elixir (known as "prickly pear") soothes irritated skin whilst firming, protecting and increasing skin hydration. African Moringa Peptides protect skin cells from pollutants and purify the skin. Hyaluronic acid locks water into the skin. It's known for its ability to hold up to 1000 times its weight in water. It helps to reduce the appearance of wrinkles, making the skin look younger with an improved skin tone. Evolve say this is suitable for  all skin types, even sensitive skin. If you wear make-up you can even spritz it over make-up throughout the day.
I like that Evolve are very upfront and clear about their percentages of natural and organic ingredients. They display this in large text on the label on the front of the bottle. This toner is 99% natural, but only 20.5% organic. I checked with Evolve regarding the low organic content. They said that this is because the product has a high water content and water cannot be counted as organic.
Pretty impressive for a toner I think you'll agree and it could even make me change my opinion of toners.
Fragrance
Lovely light fragrance from the rosewater and orange flower water.
Directions – how to use
Spray lightly over clean face before applying moisturiser. It can also be applied over make-up throughout the day.
Ingredients – Evolve Daily Defence Moisture Mist
Aqua (water), Rosa Damascena (Rose) flower Water*, Citrus Aurantium Amara (Bitter Orange) Flower Water*, Glycerin, Moringa Pterygosperma Seed Extract, Opuntia Ficus-Indica Stem Extract*, Sodium Hyaluronate, Sodium Levulinate, Sodium Anisate, Sodium Dehydroacetate, Dextrin. *ingredients from organic farming
Where to buy
Your thoughts
Have you tried Evolve Daily Defence Moisture Mist or any other Evolve products? What did you think? Please post your comments below.
---
Found this website useful?
Please consider donating a few pounds to help me develop this site. Or share this post with your friends and follow me on social media. Thanks for your support!
---
You may also like…