Natural Wisdom Organic Skincare is another small natural beauty company which I discovered on Twitter. (Twitter can be a great resource if you block out the inane  chatter from many users!) Natural Wisdom was founded in 2007 by Maeve Smith, a homeopath, as she wanted "high-performance natural and organic skincare that offered visible anti-ageing results without the chemicals and cheap weak fillers".
Our mission, which has been the same since day one, is to create the perfect organic skincare you would love to design for yourself.
The range of products are cold blended for maximum bioactive potency and include: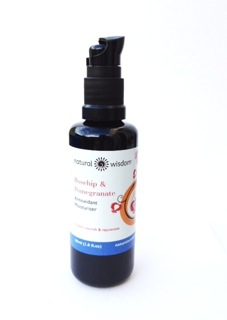 Cleansers
Toners
Moisturisers
Exfoliators including a liquid exfoliator which sounds very interesting
Anti-ageing treatment serums and oils
Shea butter balms
Bath and shower gels
Hand and body lotions
I've yet to try Natural Wisdom's products but have my eye on Maeve's Age Defiance Facial Firming Treatment oil for when I next need to make a purchase of  facial oil. If you're looking for natural and organic skincare from a company with strong eco and ethical values, then why not support a small British business and give Natural Wisdom a try? Then come back here and let me know what you think.
Because our products are cold blended, this means we can make them 100% free from synthetic processing ingredients, wax emulsifiers, water, refined oils, bulking agents, fillers and nonsense ingredients most commonly found in conventional skincare which means we are free to fully support sustainable, organic and ethical agricultural practices.
Where to buy
Shop online at naturalwisdom.co.uk. Gift sets where you get to pick exactly what you want to go in it are ideal Christmas presents for women who care about what they put on their skin.
Special offers
Current special offers include:
Free Post & Packing in the UK for orders over £20
Reward points
Join the discussion
Have you tried and Natural Wisdom products? Please let me know what you thought in the comments below.
---
Found this website useful?
Please consider donating a few pounds to help me develop this site. Or share this post with your friends and follow me on social media. Thanks for your support!
---