Nectar & Bumble is an online store, stocking a range of gifts, homeware & skincare all based around bees and where 10% of their profits are donated to bee conservation charities.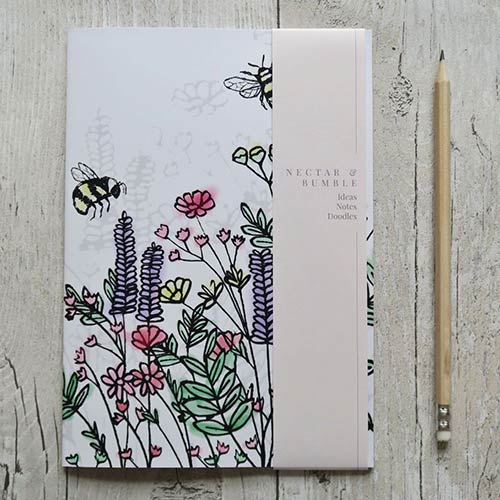 Nectar and Bumble is yet another Twitter discovery (sorry to be so repetitive!). The business was set up by Amber (who also runs the fantastic blog, Amber's Beauty Talk, focussing mainly on natural and organic beauty) and is such a great idea. The website sells a range of products which are all linked to bees.
Bees are in decline all around the world but especially in the UK so we want to raise awareness of their decline, whilst raising money for bee charities too. We donate 10% of our profits to the Bumblebee Conservation Trust and Friends of the Earth's Bee Cause who both do incredible work to help save our bees.
There are bee-themed gift and items from brands who also support bee charities including Creature Candy, Beefayre and Therapi Honey Skincare.
Therapi special offer
There's currently a special offer on the site where you can get a free lip nectar when you buy any Therapi moisturiser. The offer is valid until 31 July 2016.
Nectar & Bumble notebooks and prints
They have recently launched their own notebooks and prints, that have been exclusively designed for them by print designer, Mia Felce. I love a proper notebook (Evernote is good but you can't beat writing on paper in my opinion) and there are some gorgeous bee designs in the range. My favourite is the wildflower meadow one.
The notebooks cost £5 each or you can buy a set of the three designs for only £12.
Other gifts
If you want jewellery then there are the contemporary Honeycomb earrings available in gold, rose god and silver and cost only £15. They also have candles, mugs, make-up bags and more.
So whether you want to treat yourself on pay day or are looking for a present for someone, check out the Nectar and Bumble website for some beautiful gifts where your purchase will also help save the bees.
---
Found this website useful?
Please consider donating a few pounds to help me develop this site. Or share this post with your friends and follow me on social media. Thanks for your support!
---
Further reading