Earlier this month I visited Weleda UK in Ilkeston, Derbyshire, with an invitation to discover more about the natural skincare and healthcare brand and explore their gardens.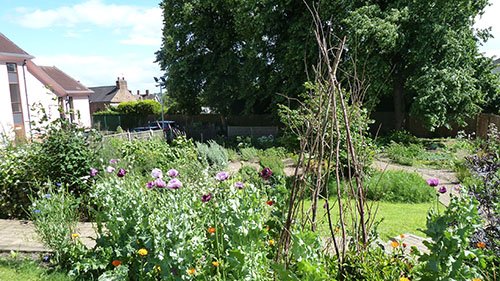 Who are Weleda?
Susie Fairgrieve, Communications Director, welcomed us to the day and gave us a brief overview of Weleda. Weleda was established in 1921 and is the original green beauty brand. It was great to hear that Weleda has recently been named the number 1 sustainable cosmetics brand. A well-deserved accolade in my opinion with thir commitment to fair trade and organic farming.
What started in 1921 as a pharmaceutical laboratory, with its own medicinal plant garden, is today a world-leading manufacturer of holistic natural cosmetics as well as pharmaceuticals for anthroposophical therapy.
NaTrue
Weleda products are certified to be 100% natural by NaTrue. All of Weleda's products are:
free from petroleum-derived ingredients
synthetic chemicals
synthetic preservatives
synthetic fragrances
GMOs
never tested on animals
The production of 100% natural products is something to be very proud of.
Find out more about Weleda's certifications and labels.
The Field – Weleda's gardens
Grabbing our Weleda water bottles (free from nasty plastic chemicals of course), we headed to the minibus to travel to The Field. This was the part of the day I'd been most excited about. The Field is actually the 13 acre site where Weleda grow many of the ingredients which go into their products.
Michael, garden consultant, took us on a tour of the gardens starting with an insight into the plants that make up Weleda Skin Food such as calendula, chamomile and wild pansy. Michael told us that what we considered to be one calendula flower is actually 100s of flowers because each petal is a flower in its own right. Our tour continued to the compost area, the wildflower meadow and a shady spot where ferns grew, called Nooky Hollow. Michael claimed that he wasn't responsible for the naming of this! Weleda's gardens are managed in a very natural way where plants that seed themselves in the "wrong" place aren't removed but are instead left to grow.  It actually felt like a country walk rather than a tour round a business and I could have spent hours there.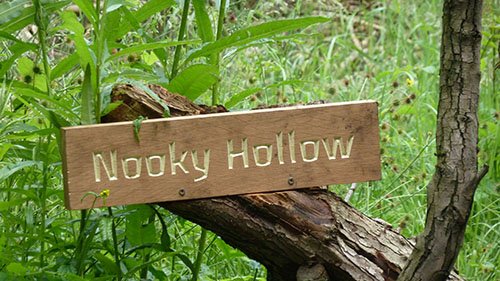 Mick the Bee's Bees
As a love of wildlife, I was really interested to hear more about bees from Mick, the beekeeper. Mick showed us different types of beehives used by people and also his stunning creation, the sun hive which is suspended from a high pole. This is much better for the bees but not as easy for the beekeeper! He also explained about the way a bee colony functions.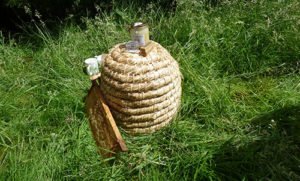 We tasted some of Mick's honey which was lovely. It was a fascinating talk and we reluctantly continued the garden tour with Michael chivvying us along. Talking to Mick along the way I found out that he runs The Bee Shed as an educational activity for children and adults which I think is such a wonderful idea.
Save our Soil (SOS)
Claire Hattersley, the garden manager, seated us on benches under a beautiful old oak tree to talk to us about soil and horn manure. Claire's theme was Save our Soil and she started by telling us that there are believed to be only 100 more harvests left in UK soils. Such a scary thought. She referred to the soil as being the earth's living skin which I think is such a wonderful description.
Weleda use the biodynamic agriculture methods of their founder, Rudolf Steiner. They treat the soil with respect to ensure that it is replenished and maintained so that they can continue to use it again and it also provides a home for nature.
In 1924 Rudolf Steiner delivered eight lectures about biodynamic agriculture to farmers who were experiencing a decline in the vitality of their land, animals and seeds. Despite this being nearly a century ago, biodynamic farming is not a very popular agricultural system. Conventional farming requires fertilisers and pesticides which negatively impact the life of the soil. This mineralised soil then needs more chemical inputs to produce smaller yields and so the cycle continues. It's this method of farming has lead to the prediction that there are only 100 harvests left in UK soils.
Claire spoke about how biodynamic soil absorbs water but water runs off conventional soil. This isn't just bad for farming but I think it probably contributes in some way to flooding if soil's unable to absorb rainwater.
Claire also explained about horn manure which is manure placed in cattle horns, buried in the ground and then placed in a barrel of water which is stirred in a particular way. This water is then sprinkled around the garden.
Lunch
A delicious picnic lunch was provided by Fintons Bakehouse. A salad and quiche followed by a box which I was more than pleased to find contained two pieces of cake. Being a green blogger it was good to see that the boxes were cardboard and the disposable cutlery was wood and not plastic.
Weleda Skin Food celebrates 90th birthday
Evelyn Liddell, Weleda Pharmacist & head of New Product Development, gave us an insight into Weleda's cult beauty product, Skin Food. I'm a big fan of Weleda's Skin Food but even I was surprised to hear that this hero product has won 25 awards in the UK alone just in the past decade. Evelyn explained that don't over-process the ingredients and there are no padders or fillers, every ingredient contributes. Weleda don't use mineral oil as it just sits on the skin.
Skin Food is a great multi-tasker and some of its uses include:
Body cream
Face cream
Night cream
Repair cream
Lip balm
Hand cream
Foot cream
Treatment mask
Natural emollient
Nappy balm
Smooth split ends of hair
Condition beards
Soothe sunburn
Radiance restorer
Primer
Highlighter
Dewy glow-getter
If you could use Skin Food to replace so many products, you could save yourself a fair bit of money.
Read my review of Weleda Skin Food.
It's also a celebrity favourite with people such as Victoria Beckham, Suki Waterhouse, Adele, David Gandy and Andrew Cooper and has become a staple in the Model Zone at London Fashion Week.
To celebrate Skin Food's 90th birthday Weleda have created these pretty Skin Food wellies which visitors could borrow and they're also touring the country in the Nice Cream Van.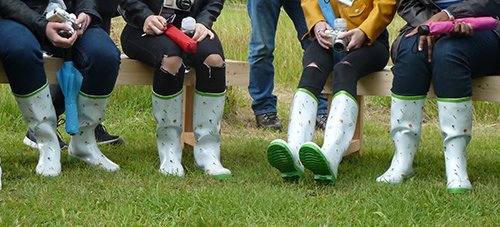 Being a fan of wild flowers, I loved that Evelyn used the Winnie the Pooh quote:
Weeds are flowers too, once you get to know them.
Tinctures and a hand massage
Next Claire was up again and this time she demonstrated how to create a calendula tincture. This was followed by a hand massage workshop where we watched how to give someone a hand massage before trying it ourselves. I was fortunate to have an expert massage from Evelyn. It was amazing to notice how much tension I held in my hands. It was a case of you don't miss it until it's gone! Afterwards my arms felt like they didn't actually belong to me which was a weird sensation.
The end of Weleda Insight Day
Thanks to Susie and all the Weleda staff plus Mick the Bee for making it such an interesting and informative event. It was great to spend a day with people who clearly love the work they do and just wanted to share their passion for Weleda. With such a strong commitment to environmental, social, and economic sustainability, most companies could learn a lot from Weleda.
My only complaint was that I wanted to spend longer there because there was so much more to learn about and explore. It shouldn't have been an Insight Day but an Insight Weekend!
Where to buy Weleda products
If you've never tried Weleda before, then you really should put some of their products to test. It's rare to get such high-quality natural and organic products at such a reasonable price. You can buy Weleda products from: