Angela Langford Repair & Renew Nourishing Face Oil has been created to smooth and nourish dry, damaged skin.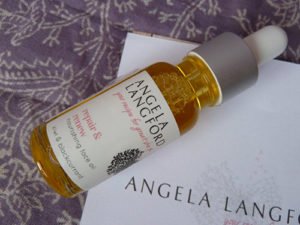 About Angela Langford skincare
Angela Langford's skincare range was born out of a need for decent skincare products whilst living in Spain. Angela is a talented cook and used her recipe creation skills to make her own skincare. This hobby lead to her studying skincare production in the UK before setting up the Angela Langford skincare brand five years ago. You may also recognise from her appearance on Masterchef in 2014.
Packaging
The Angela Langford Repair & Renew Nourishing Face Oil comes in a clear glass bottle with a dropper so it's easy to measure out the quantity you want. When you've finished the product you can either reuse the bottle for your own DIY facial oil or recycle it. The pretty packaging features a dandelion clock inspired by a birthday card Angela received fom her Mum.
The parcel also contained a personal note from Angela, a product info sheet which highlighted some of the key active ingredients a recipe card for soy roasted pumpkin seeds as Angela is keen for you to nourish your skin from within too.
Green credentials
Cruelty-free – products and ingredients aren't tested on animals but instead on friends and family
Natural ingredients – Angela's products contain high-quality natural ingredients and, where possible, organic ingredients.
No parabens, no petrochemicals, no synthetic fragrances, colours or other skin nasties
Handmade in Somerset, UK
Be a Shade Greener verdict – Angela Langford Repair & Renew Nourishing Face Oil
When offered the chance to review one of Angela's face oils, I chose the Angela Langford Repair & Renew Nourishing Face Oil because my skin is showing signs of ageing. Angela has selected ingredients that offer your skin a number of benefits. Vitamin E increases cell renewal and the Spilanthes acmella flower , otherwise known as electric daisies apparently, is a "botanical super ingredient, which restructures & firms the face". Other ingredients include the increasingly popular Argan which is rich in omega 6 to protect & regenerate dry & mature skins. Arctic blackcurrant also aids skin rejuvenation.
I've been using the facial oil for about 6 weeks now and I'm really impressed with the results. My skin feels soft and smooth and looks glowing. Fine lines appear to have been reduced and my skin tone feels firmer. I'm just about halfway through the bottle so think things will only get better! It feels like you're treating your skin when you use it and it has a gorgeous fruity smell. I've been using one or two drops a night for an overnight treatment.
I love facial oils and this has to be one of my favourites and I'd  definitely buy it again. You've probably noticed that mainstream beauty brands have just realised how amazing facial oils are even though people in the natural beauty world have known for ages. Apparently sales of facial oils increased by more than 30% in 2015. If you've never tried a facial oil before, give it a go. I don't think you can go wrong with a high-quality product like Angela's but give those mainstream brands a miss.
I haven't tried any other Angela Langford products but I will be looking at her website next time I need to buy something. I particularly like the look of Angel Eyes nourishing eye oil  as I've never used an eye oil before and it's getting top reviews from customers.
Personalised service from Angela – get your free sample pack
Angela Langford is very proud of the personalised service it offers. When you register you are asked to complete a questionnaire so that they can recommend the best products for your skin type. The best thing about this is that you can then order your very own Skincare Sample Pack which is free except for the P&P. This is such a great idea when you're trying out a new skincare brand. I love that you get the real feeling that Angela is involved in everything and is not just a figurehead.
Directions – how to use
Angela recommends that you massage one or two drops into clean face, neck & décolletage using gentle upward strokes after applying your specialist face serum. She also says you can add a drop to your usual face moisturiser to supercharge it.
You can also use this oil on its own on clean skin at night as an intensive overnight treatment. Also, if you use a moisturiser, you can add a drop of this oil into it when your skin feels like it needs a little extra care.
Ingredients
The following ingredient list for Angela Langford Repair & Renew Nourishing Face Oil was taken from the Angela Langford website:
actinidia chinensis seed oil (kiwi seed oil), rosa rubignosa oil* (rosehip oil), tocopherol (natural vitamin E), oenothera biennia oil* (evening primrose oil), argania spinosa oil* (argan oil), oryza sativa bran oil (rice bran oil), macadamia ternifolia seed oil* (macadamia oil), squalane (from olive oil), caprylic/capric triglyceride (from coconut oil), ribes nigrum fruit extract (arctic blackcurrant), rosmarinus officinalis leaf extract* (rosemary), retinyl palmitate (vitamin A), boswellia carterii oil* (frankincense oil), cymbopogon martinii oil* (palmarosa oil), citrus aurantium flower oil (neroli oil), citrus limon peel oil* (lemon oil), aniba roseodora wood oil* (rosewood oil), citrus reticulate peel oil* (mandarin oil), citrus aurantium leaf oil* (petitgrain oil), piper nigrum fruit oil* (black pepper oil), spilanthes acmella flower extract (electric daisies), ubiquinone (Q10).
From essential oils: d-limonene, linalol, geraniol, farnesol, citral.
*These ingredients are organic at source.
Contains 100% natural ingredients, 45% of which are organic at source.
Where to buy Angela Langford
Visit the Angela Langford website to find out more about Angela Langford Repair & Renew Face Oil (15ml / £20.50) and her other products.
Have you tried any Angela Langford products? What did you think?
---
Found this website useful?
Please consider donating a few pounds to help me develop this site. Or share this post with your friends and follow me on social media. Thanks for your support!
---