If you have some leftover paint, don't throw it away instead donate it to Community RePaint so they can re-distribute it to those who need it.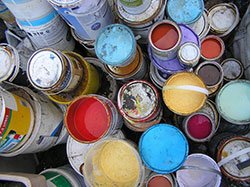 In the UK alone more than 300 million litres of paint (retail and trade) are bought each year. It's estimated that approximately 50 million litres are never used and just stored in a shed or just thrown away. That's enough paint to fill 20 Olympic-sized swimming pools!
If you have some of this "waste paint" you can do your bit for your local community and the environment (as long as it is reusable) by donating your leftover paint to Community RePaint, the UK'spaint reuse network. Community RePaint is a network of paint which collect reusable, leftover paint and re-distribute it to individuals, families, communities and charities in need.
In 2013 the Community RePaint national network:
saved 410, 148 litres of paint, donated by householders and businesses, from going to waste
redistributed over 245,000 litres of paint to community groups, charities, voluntary organisations and people in social need
Find out where to donate or get paint at www.communityrepaint.org.uk
Join the discussion
Do you know of any other organisations or places where you can donate your waste and leftover paint? Please share the details below.
---
Found this website useful?
Please consider donating a few pounds to help me develop this site. Or share this post with your friends and follow me on social media. Thanks for your support!
---
You may also be interested in…