I've not tried Method's eco-friendly cleaning products before so was looking forward to reviewing the washing-up liquid and the multi-surface cleaner from their limited edition fragrance, Sunset Beach.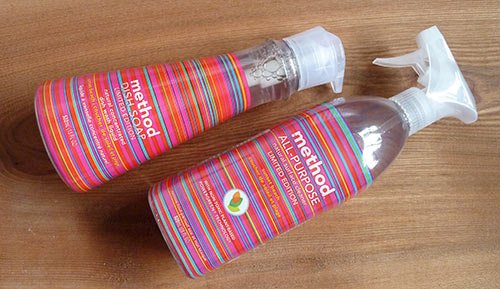 Cruelty-free cleaning
Method don't test their products or ingredients on animals and have been awarded the Cruelty-Free International Leaping Bunny by BUAV. Their products don't include any animal by-products instead they use innovations like renewable plant-based fabric softeners. In 2006, PETA made Method co-founders, Adam Lowry and Eric Ryan, their 'People of the Year' and gave method a Proggy (progressive business) award. So if, like me, you don't think cleaning products should be tested on animals, then Method is worth checking out.
Fragrance
Method is all about making cleaning more fun and the fragrance for their Sunset Beach range is supposed to conjure up images of cocktails on a tropical beach. Have they succeeded? Yes, I think they have with this exotic fruity and floral scent which is a blend of orange, melon + plumcot (apparently a cross between a plum and an apricot). Even my boyfriend made positive comments about it and it's unlike him to notice the smell of cleaning products. It's definitely something different to the usual washing-up liquid fragrances!
Packaging
Method obviously put a lot of thought into the design and style of their products. The brightly-coloured stripes remind me of beach towels and deckchairs and the bottles look stylish. Although, the bottles are made of plastic, it's great to see that it's 100% recycled plastic.
Washing-up liquid
The washing-up liquid (or dish soap as it's called on the packaging) has impressed me so far. It's the first time that I've used one that's come in a pump dispenser which is great to ensure you don't squeeze out too much product. Once I've used it all up, I think I'll keep that container and refill it as it's such a great design. A little goes a long way which is so often the way with eco-friendly products so the bottle has lasted us months. It's great at cutting through grease and shifting dried-on food without being harsh on my skin which is all I want really.
Multi-surface cleaner
This multi-surface cleaner has been designed to be used on counters, tiles, stone, wood and glass. I've tried it on all apart from stone and found it to be very effective, even on burnt on food on our glass cooker hob. It dries quickly without smearing. Why buy lots of specific products when you can buy one great multi-purpose cleaner which can be used on multiple surfaces and in different rooms? This will save you money and cut down on chemicals in your home. Unlike some standard brands cleaning products, this spray doesn't make you cough when you use it. I don't understand why people use cleaning products that are obviously having a detrimental effect on their health. Natural, eco-friendly products are non-toxic and just as effective.
---
Found this website useful?
Please consider donating a few pounds to help me develop this site. Or share this post with your friends and follow me on social media. Thanks for your support!
---
Where to buy Method
Method sells the limited edition Sunset Beach range on their website with both products costing £3 each
Big Green Smile sells other Method products