Made from recycled plastic with replacement heads available, the EcoForce recycled washing up brush is the ideal eco-friendly plastic dish brush.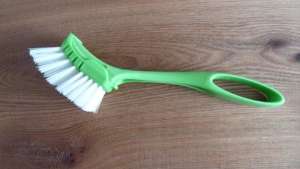 We're all aware how important it is to reduce, reuse and recycle but something else to consider is buying products made of recycled materials. Recycling is great but it's not the end of the story. We also need to buy recycled goods if  companies are going to continue to buy our recycled waste to turn into shiny, new products.
I've written a post before about a great wooden washing-up brush with replaceable heads which I highly recommend but I've also bought one made from recycled plastic to use when washing up really dirty and greasy pots and pans. I know this is silly but I like my wooden brush so much I don't like it getting involved in an oily frying pan.
Review: EcoForce recycled washing up brush
The recycled dish brush (a bargain at £2.15) from EcoForce is one of the many products  made from recycled plastic. I'm really impressed with it as it cleans well and has lasted for ages. It's eco-credentials are:
Bristles made from 70% recycled materials
Handle made from 89% recyled materials
Made and designed in the UK so less transport miles if you live in Britain and you can support a UK business too
EcoForce manufacture a range of affordable eco-friendly products giving us a more sustainable option than the standard products made of virgin materials.  Their mission is to help consumers make greener choices and show them that being environmentally-friendly doesn't necessarily have to mean spending more money.
Replacement brush heads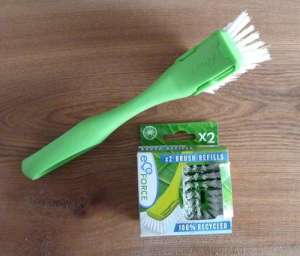 You can also remove the head and replace it so it's annoying that Natural Collection sell the brushes but not the spare heads. You can buy the refill brush heads from Traidcraft who sell a pack of 2 for £2.30.
EcoForce's list of recycled products
EcoForce also manufacture the following products made out of recycled material: on the Natural Collection website:
Recycled sponge scourers
Recycled kitchen scourer pads
Recycled bag grips
Recycled clothes pegs
Recycled peg basket and pegs
Recycled super-absorbent quilted multi-purpose cloths
Recycled dusters
Recycled washing line
Where to buy EcoForce
It's good to see that EcoForce items are becoming more widely available. There is a list of stockists on their website and you can also buy online from:
Join the discussion
Have you tried any EcoForce products or can you recommend any other items made out of recycled materials?
---
Found this website useful?
Please consider donating a few pounds to help me develop this site. Or share this post with your friends and follow me on social media. Thanks for your support!
---