Recently, whilst on a trip to Scotland, I discovered something which got me very excited! In a small Co-op near Glen Coe, they had done something I'd not seen before in a supermarket. They had put doors on their fridges. It was so unusual that at first it confused me, as I automatically assumed that they were freezers and not refrigerators.

It has always frustrated me and made me angry that shops up and down the country insist on chilling refrigerated goods, plus any shoppers in a 20m radius, in fridges without doors. ( Don't get me started on shops that have the heating on in winter and the doors wide open.) In this Co-op, the fridge doors had little common sense slogans on them such as "I wouldn't leave my fridge door open. Doors on fridges save energy."
[pullquote]A study showed that if all the UK's supermarkets put doors on their fridges, the electricity saved would be about double the output of the huge Drax coal-fired power station in Yorkshire, Europe's second largest.[/pullquote]
Apparently, shoppers don't like fridge doors and supermarkets are concerned that sales will fall if they fit doors. So, if you went to buy a pint of milk and found that a door separated you from your desired purchase would you walk out without buying it? Have we become so lazy that we can't even be bothered to open a fridge door? I doubt it very much. Well, maybe those people who buy grated cheese would have an issue.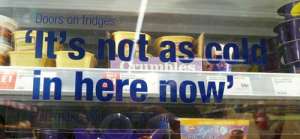 In researching this post, I found an article where The Guardian reported that by installing doors on fridges in just 100 stores, The Co-operative was saving a massive £50m a year as well as reducing its environmental impact. I expected this to be a recent story and was surprised to see that it was dated December 2012. So why has The Co-op not put doors on all their fridges and freezers? Why haven't other supermarkets started to do the same? Some supermarket chains probably don't give a toss about the environment, but all of them will be motivated by money so why aren't massive savings motivating them to stop this huge waste of energy? I doubt that it costs much to put doors on fridges and, while we're at it, freezers too.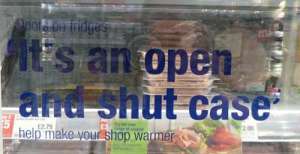 Also, why hasn't the government made supermarkets do this? Don't they want to save such a massive amount of energy?
If you work in a supermarket, I'd love to hear why you aren't doing this. I looked at a lot of food retailer websites and they all have sections for environment and ethics on their websites but is it just greenwash? M&S are one company who I think are committed to running a more eco-friendly business and are doing a lot of good work but on their Plan A website, they say: "Heating and hot water are provided by heat expelled by the fridges which brings energy consumption just below an average Simply Food store and we are now working to reduce this even further." This all sounds great but wouldn't fridge doors be a simple way to "reduce this even further"?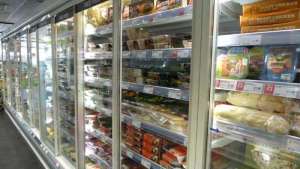 Read more
These articles are all disappointingly old, it's as though this issue has been dismissed.
---
Found this website useful?
Please consider donating a few pounds to help me develop this site. Or share this post with your friends and follow me on social media. Thanks for your support!
---