AmazonGem's Dry Skin Balm is a 100% natural balm which soothes and relieves dry, sore, sensitive skin. It's also suitable for eczema, psoriasis and rosacea.
On a visit to London, we went to Portobello Road market. It's a huge street market with some delicious food stalls under the flyover so worth checking out. One stall really stood out for me as it looked so calm and peaceful among the hordes of people streaming along the road on a busy Saturday afternoon.  This pretty little oasis turned out to be the stall of Gem's Dry Skin Care. I spent a few minutes looking at the banner stand and some customer testimonials which showed some impressive before and after photos from some of Gem's very happy customers. Gem told me that she'd created the product to help her mum who suffered with eczema on her hands. I tried some of  Gem's Dry Skin Balm (formerly Dry Skin Cream) on my hands and instantly, I could see and feel a difference so I decided to buy a pot.
Packaging
The balm comes in a glass pot with a metal screw top lid. It's a good pot to re-use yourself or you can recycle the glass jar but the lid will probably have to be thrown away.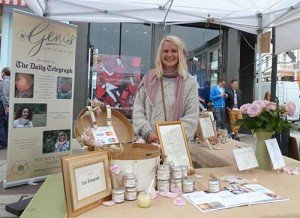 Green credentials
No parabens or preservatives
100% natural
No steroids
Not tested on animals
It is 100% natural with every single ingredient containing properties that heal the skin.
Directions
Recommended to be applied twice a day (morning and evening)
Balm melts on contact with your skin so easy to rub in
A little goes a long way so economical
For ages 3+
Has also been used to prevent stretch marks during pregnancy
Be a Shade Greener verdict
I bought this as I hoped it would sort out a red, dry patch of skin under my chin which seems to flare up in response to temperature changes. (Although I hadn't been to a doctor about this, I'd asked a few people working in the natural beauty industry who said it could be rosacea.) After a few weeks of use the skin felt softer and smoother and was noticeably less red in cold weather. A few months on, things have greatly improved and the skin is almost back to normal. I'm hoping that with continued use it will completely clear up.
This is a wonderful multi-purpose dry skin product which although useful for eczema, rosacea and psoriasis, can be used in lot of ways:
hand cream
lip balm
sore, dry patches such as elbows, knees and heels
to treat or prevent chafing
prevention of stretch marks during pregnancy
In fact, when I contacted Gem to ask if I could use the balm as a lip balm, she said she used it "everywhere"!
Every house should have a pot of this balm as it will definitely come in handy. I think it's a great green alternative to Vaseline and other petroleum jelly products.
Where to buy online
Gem's Dry Skin Balm is available direct from Gem's website where you can also read customer testimonials and see some fantastic before and after photos. It's also on sale at Amazon
.
Gem's Dry Skin Balm ingredients
Sweet Almond Oil
Cocoa Butter
Beeswax
Evening Primrose Oil
Carrot Carrier Oil (contains sunflower oil)
Neroli Oil
Geranium Oil
Galbanum Oil
Rose Oil
Join the discussion
Have you tried Gem's Dry Skin Balm? What were your thoughts? Have you tried it on any problems I haven't mentioned?
You may also be interested in…
Photos: Be a Shade Greener
Updated: November 2018, Original Post: 24 January 2016
---
Found this website useful?
Please consider donating a few pounds to help me develop this site. Or share this post with your friends and follow me on social media. Thanks for your support!
---