Big Green SmileIn my opinion Weleda Plant Gel Toothpaste is the best natural toothpaste. I first started using it in 2015 and it's still my favourite fluoride-free natural toothpaste 3 years later.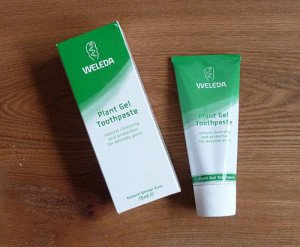 I've always preferred gel toothpastes (as a child I liked Colgate Blue Minty Gel) so I was excited to see that Weleda make a gel toothpaste but without all the rubbish to be found in my childhood favourite. Weleda Plant Gel Toothpaste is fluoride-free and contains soothing chamomile which is especially gentle on tooth enamel and delicate gums. Peppermint and spearmint have been added to keep breath fresh. For me it has to have a minty taste so this doubly-minty one works for me. Natural silica cleanses thoroughly yet gently, easing sensitivities and inflammation. It's also suitable for vegans.
Ingredients
INCI: Glycerin, Water (Aqua), Hydrated Silica, Magnesium Aluminum Silicate, Alcohol, Krameria Triandra Root Extract, Commiphora Myrrha Resin Extract, Chamomilla Recutita (Matricaria) Flower Extract, Esculin, Xanthan Gum, Flavour (Aroma) *, Limonene*. *from natural essential oils.
As you'd expect from any beauty brand with an interest in caring for our planet, there aren't any microbeads to be seen. (Read: Stop microbeads polluting our oceans)
How to use
Squeeze 1 to 2 cms on a moistened toothbrush. This toothpaste is brown (no artificial colours here) as shown in the photo below with my Monte Bianco toothbrush. When I first started using it I would be a bit shocked when I rinsed out my mouth thinking that my gums were seriously bleeding forgetting I was using a brown toothpaste.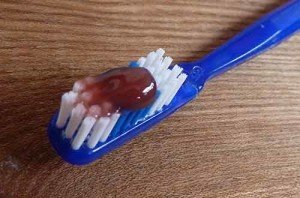 Where to buy Weleda Plant Gel Toothpaste
Looking for a natural toothpaste with fluoride?
My boyfriend prefers a fluoride toothpaste but wants a natural version, so he uses Kingfisher Mint Toothpaste with Fluoride. I've tried it and it's much better than a standard toothpaste as it doesn't fill your mouth with unnecessary white foam as it doesn't containing Sodium Lauryl Sulfate.
You can buy Kingfisher Mint Toothpaste with Fluoride from:
You may also be interested in
Post updated: 07 November 2018 | Original post: 13 October 2015
---
Found this website useful?
Please consider donating a few pounds to help me develop this site. Or share this post with your friends and follow me on social media. Thanks for your support!
---