Pai Skincare Camellia & Rose Gentle Hydrating Cleanser is a great natural facial hot cloth cleanser and eye make-up remover which contains 80% organic ingredients.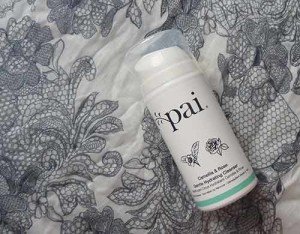 Fragance
Damask Rose Otto Oil and Geranium Oil gives this cleanser a calming fragrance but the May Chang also gives it a citrus scent. It's a great combination which I love.
How to use
Pai's instructions are to gently massage 2-3 pumps of cleansing cream onto dry skin. Use a warm damp muslin cloth in a circular motion to remove the cleanser. Rinse the cloth and repeat until all the cream has been removed. Finish with a splash of cold water to the face.
I would apply one pump of cleanser and add more if I felt it was necessary. I don't wear make-up every day so I think it's possible to get away with using less but I'd be interested to know what you think.
Results
The results were impressive. Skin felt cleansed but also nourished. There was no tightness or feeling of skin being stripped of its natural oils. My face felt soft and looked radiant.
Packaging
The cleanser comes in a plastic pump dispenser which seals itself up at the end of each pump keeping the product fresh and hygienic. The plastic dispenser may be able to be recycled in your household recycling but check because each council has different policies. I currently can't recycle it in my home recycling bin which is a shame. The cleanser and muslin cloth are packaged in a cardboard box which I can recycle.
Green credentials
Certified by:
Vegan Society
Soil Association
BUAV (cruelty-free) – I know animal testing is no longer allowed in the EU but I like to support companies who chose to do this because it's morally the right thing to do, rather than those who now do it because it's the law. (Read: Tips to help you become a cruelty-free and eco-friendly shopper)
Pai stockists and where to buy online
Pai has become a big name in the world of natural and organic beauty and is now widely available from stockists including:
Verdict
Hot cloth cleansers are my favourite as I enjoy the ritual of removing with a muslin cloth (preferably organic cotton) and the added benefit of gentle exfoliation as you remove the product.
Read my post: Organic muslin face cloths: Simple way to supercharge your skincare regime
(I used to use Liz Earle's Cleanse & Polish until Liz Earle became part of Avon. According to BUAV's Cruelty-Free website, Liz Earle was bought by the Boots Walgreen Alliance in 2015 and is therefore no longer considered to be cruelty-free as the Boots Walgreen Alliance is not approved as cruelty free.)
I think this Pai version is an excellent hot cloth cleanser which removes dirt and moisturises at the same time. Since moving to green beauty products, I've discovered that a cleanser shouldn't leave your skin crying out for the moisturiser as soon as you've finished cleansing. It smells great and I like that it's 80% organic and accredited by the Soil Association. It would be good if it had a higher proportion of organic ingredients but would that push up the price? I received my original sample from Only Naturals and have since re-purchased so you know I think it's a great product. My only issue is that this is the most expensive cleanser I've ever bought and probably ever will buy! To make it last longer I sometimes only use it once a day and use an alternative cleansing product in the morning. Do any of you do things like this?
Ingredients
Aqua – Purified Water
Camellia Oleifera Seed Oil* – Camellia Oil
Ricinus Communis Seed Oil* – Castor Oil
Prunus Amygdalus Dulcis Oil* – Sweet Almond Oil
Cetearyl Alcohol – Coconut-derived Emulsifier
Glycerin* – Vegetable Glycerine
Butyrospermum Parkii Butter* – Shea Butter
Cetearyl Glucoside – Corn-derived Emulsifier
Sodium Anisate – Non-Irritating Preservative Derived From Basil
Tocopherol – Natural Vitamin E
Rosa Damascena Oil* – Damask Rose Otto Oil
Pelargonium Graveolens Oil* – Geranium Oil
Sodium Levulinate – Non-Irritating Preservative Derived From Corn
Lavandula Officinalis Flower Oil* – Lavender Oil
Lactic Acid – pH Stabiliser Derived From Sugar Beet
Litsea Cubeba Fruit Oil* – May Chang Oil
Glyceryl Stearate Citrate – From Sustainable Palm Oil
Sodium Lauroyl Lactylate – From Coconut Oil
---
Found this website useful?
Please consider donating a few pounds to help me develop this site. Or share this post with your friends and follow me on social media. Thanks for your support!
---
You may also be interested in…