If you buy a green, ethical or eco-friendly gift this Christmas, you can give a wonderful Christmas present with added benefits. Buy a Fair trade pressie to ensure the  producers of your item are paid a fair wage. Give a gift to our planet by choosing items made from recycled materials instead of a product which uses more of the earth's limited resources. Support local craftspeople and artists by buying unique handmade gifts. As ethical shopping becomes more mainstream the choice is increasing and becoming more and more innovative.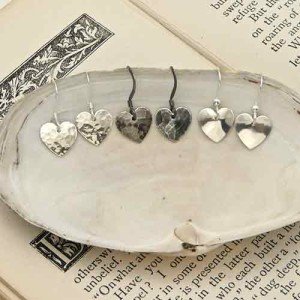 Recycled jewellery from Kate Hamilton-Hunter
Kate designs and makes stunning environmentally-friendly jewellery from recycled silver, biscuit and sweet tins! This year's Christmas range features 4 different colourways including gold, green, silver and red patterns. Check out Kate's website for her other designs such as hearts, stars, swallows, dragonflies and butterflies which are available as and necklaces, earrings racelets. I doubt if there is a woman or girl who wouldn't love a piece of Kate's jewellery to unwrap on Christmas morning. I already have several pieces of Kate's jewellery  but I know there'll be at least one more on my wishlist!
Personalised maps from Ordnance Survey
Part of being eco-friendly for me is enjoying the place I live in and having holidays in the UK. I love the UK's coast and countryside so think this is a brilliant present for those who love the great outdoors (such as walkers, runners and cyclists). It also makes a great gift if you want to commemorate a special place or a romantic occasion such as where you had your first kiss, the place where you proposed or got married. You could also choose one that shows the location of that special holiday or one that shows where you live.
Personalisation options for folded map
Choose the location of the map
Choose a photo to go on the cover
Write your own text to go on the cover
Maps can be in a folded or flat format (ideal for placing on the wall). You order via the Ordnance Survey website and they have an offer at the moment where if you buy two personalised maps you get a free 2016 calendar.
Fair trade products from Traidcraft
Traidcraft are "fighting poverty through trade" and you can help them with their mission. They have some wonderful fair trade gifts to suit all budgets including a Turquoise Leather Clutch Purse reduced from £28 to only £18. A navy and white geometric print silk scarf will go with lots of outfits and is reduced from £16 to £10.
Organic beauty from Green People
The Bath & Shower Stocking Filler Gift Pack (worth £12.50 when bought separately) contains:
Intensive Repair Shampoo (30ml)
Moisturising Shower Gel (30ml)
Green Eco Shower Pouf  which is made with 100% recycled plastic
This is normally £10 but is on offer at the moment so you can snap up £12.50 worth of products for only £7.00.
I'm a chocoholic and Montezuma's is one of my favourites. They have a great choice of organic Xmas chocolate goodies at a range of prices including organic Chunky Snowmen and Christmas hampers. If you've never tried their chocolate before, now is the time!
FSC certified stationery
Beautiful Watercolour Lily Notebooks (set of 3 different designs) for £3.95 contain FSC-approved materials and are so handy to pop in a bag.
Fair trade clothing and ethical fashion
Natural health and beauty magazine subscriptions
A magazine subscription is the christmas gift that keeps on giving. You can get some great offers for Christmas presents:
Natural Health – I subscribe to this magazine as I like it's mixture of articles covering complementary therapies, holistic living, natural beauty, yoga and eco-friendly tips.
For yoga lovers why not try Yoga Journal or Om Yoga
Soya wax candle from M&J Ethical Luxury
M&J luxury candles are made from 100% rainforest soya, smell gorgeous and come in recycled glass containers which can be re-used as a drinking glass. Two sizes are available with a burn time of 30 hours and 60 hours. Buy from Ethical Superstore, Natural Collection or M&J London.
Photo: Kate Hamilton-Hunter Studio
---
Found this website useful?
Please consider donating a few pounds to help me develop this site. Or share this post with your friends and follow me on social media. Thanks for your support!
---