Have you ever thought much about the products that you use during your period? Me neither. After receiving some TOTM organic period products to try, I want to share some things to consider before you buy your next pack of sanitary products. Are you careful about what you eat? Do you use natural and organic skincare and beauty products? Is your next logical step is to use organic tampons, pads and panty liners?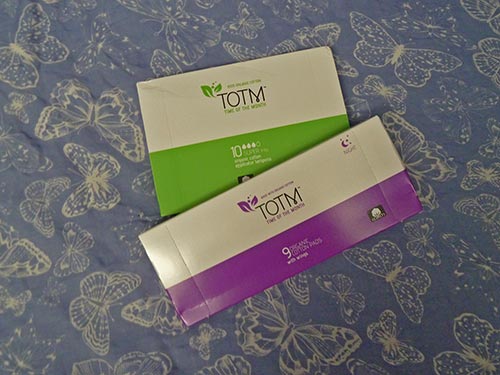 About TOTM
TOTM (Time of the Month) was created in 2012 with the aim of making organic cotton tampons, pads and liners available to women across the world. They wanted to give women an alternative to conventional sanitary products which are manufactured from man-made materials and contain potentially harmful chemicals.
Why choose organic tampons, sanitary towels and pantyliners?
Your health
I'd never really thought about what my sanitary products were made of. It surprised me to read on the TOTM website that materials used in conventional sanitary products could be treated with chlorine dioxide or chemical fertilisers. The vagina is very permeable and the most absorbent part of your body. This means any chemicals or toxins in a tampon can end up in your bloodstream and potentially cause health issues. It is considered that the levels of chemicals are low but has there been any research into the cumulative build up over 40 plus years of tampon use?
I'm also concerned about the chemical cocktail effect where all the different chemicals I come into contact with on a daily basis are building up in my system. No-one knows how this exact combination of chemicals will affect me, or you, over our lifetimes. So as part of my aim to reduce my chemical exposure, organic sanitary products seem a good decision. In researching this article I discovered that you can now get scented tampons!
TOTM also wrap a non-woven veil around the absorbent core of the tampon to stop fibres from shedding inside you.
Environment
I was shocked to read on the TOTM website that a conventional sanitary towel could contain as much plastic as 4 plastic bags! I've been using reusable bags for years but here I was unwittingly undoing all of my efforts and throwing up to 100 plastic bags a month into landfill. (By the way, please don't ever flush tampons down the toilet.)
And don't get me started on those companies that insist on making tampons with plastic applicators! I find these every time I do a 2 minute beach clean because people flush them down the toilet and they end up in the sea, being swallowed by marine animals and on our beaches.
TOTM's green credentials
TOTM have an impressive list of eco-friendly and healthy credentials:
Free from chlorine, pesticides and chemical fertilisers
Perfume-free
Won't leave any fibres behind (see image below for the fibre shedding which can happen with some conventional brands)
Non-GM, chemical and pesticide-free
Made from organic cotton
Eco-friendly mail bags
Subscription service or shop online
Periods can be a massive inconvenience but with TOTM at least buying your products is very simple. Depending on where you live, it can be hard to get your hands on organic tampons and pads in shops, so it's great that TOTM send theirs by post. They have two options:
Subscription service
With the subscription service, you choose a delivery date to suit your menstrual cycle. TOTM are very flexible and you can make changes whenever you like, pause or cancel your order at any time. There doesn't seem to be any disadvantage to this service and this is what I do.
One-off order
If you're not sure exactly what you need or prefer to bulk buy, then you can do one-off orders too.

Be a Shade Greener verdict
I have used organic tampons before but most of the time I just picked up conventional non-organic products in the supermarket. I like that TOTM are concerned with the environmental impact of growing non-organic cotton and the use of plastic in conventional sanitary products. Using TOTM will help me reduce the number of potentially harmful chemicals I come into and reduce my impact on the planet. It's great that TOTM offer a super plus tampon with applicator as I haven't come across in other organic ranges.
The sanitary pads are slim and discreet with wings. They feel soft and comfortable and you can tell that they're not synthetic.
The parcel came in a discreet and pretty floral wrapping which is also eco-friendly and the boxes are designed so that they easily fit through the letter box. TOTM organic sanitary products are better for me and the environment. From now on I'm joining the #PeriodPioneers and going organic.
Want to know more about TOTM?
Check out the TOTM website and "be kinder to your vagina"!
Free delivery
There's no need to worry about delivery costs. There is free UK Delivery on two products or more. They also offer free delivery worldwide with a reasonable minimum spend.
Suffer from itching, irritation and thrush-like symptoms?
If you find that you suffer from itching, irritation and thrush-like symptoms during your period, some medical professionals have advised women to try organic sanitary products as you could be having a reaction to the synthetic fibres, chemical additives and perfumes in standard sanitary products. If you do get these symptoms and decide to switch to organic, please let me know how you get on.
I'd accidentally bought some horribly fragranced pads beforehand, but it was only when researching for this article that I discovered that you can get perfumed tampons. Why would you want to put perfume inside your vagina?
TOTM organic tampons and pads are a little more expensive than conventional sanitary protection so you may wonder what more do you get for your money. With TOTM it's more the case of what you don't get for your money – no chlorine, pesticides, perfume…
Do you use organic tampons and pads?
Are you a period pioneer using TOTM products? Has reading this article made you think about conventional sanitary protection?
---
Found this website useful?
Please consider donating a few pounds to help me develop this site. Or share this post with your friends and follow me on social media. Thanks for your support!
---
You may also like…