As the seasons change, your skin often has different needs, so it's a good time to review your skincare regime and products. As we move from summer to autumn I find I need something extra nourishing and usually turn to a luxurious facial oil. I love facial oils and use them all year round but they really come into their own during autumn and winter. Ihana Beri-Activ Regenerating Facial Oil is the first product I've tried from Ihana Skincare and I was impressed with this unique blend of oils including Ihana's unique Beri-Activ Antioxidant Complex.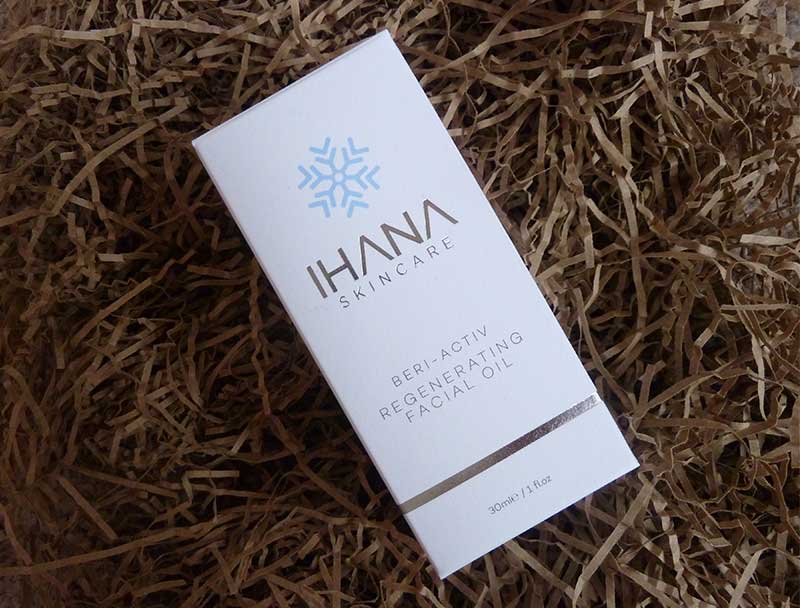 About Ihana Skincare
Ihana Skincare founder, Chris, was inspired by a late-summer trip to northern Finland where he discovered the arctic berries which generations of Scandinavians have used as skin treatments. It is these oils that form the heart of Ihana Skincare.
The Ihana Skincare range was launched in 2017 after a two and a half year development period. All Ihana products are hand-crafted in-house by Chris and his team, in small batches to ensure optimum freshness.
Green credentials
Soil Association approved COSMOS natural – as their Arctic Berry Oils and Arctic Plant Extracts come from plants that grow in the wild and are not farmed, nobody can certify that they have been grown to a recognised Organic Standard. Therefore Ihana have to use the COSMOS Natural standard. Their products are 73% to 94% organic, with the exception of our Anti-Ageing Arctic Berry Facial Oil, which only contains the non-organic Arctic Berry Oils.
Cruelty Free International Leaping Bunny logo – none of Ihana's products, or their ingredients, are tested on animals
Be a Shade Greener verdict on Ihana Beri-Activ Regenerating Facial Oil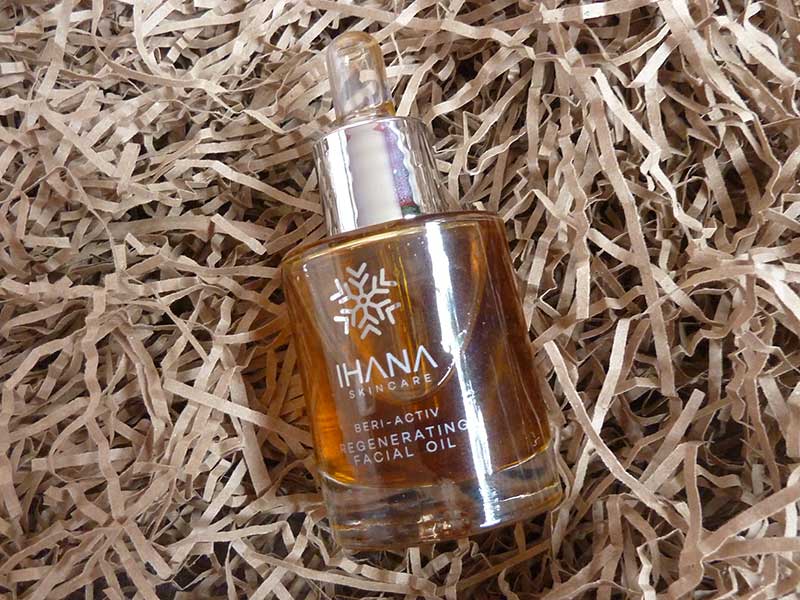 This facial oil oozes luxury and is of a thicker consistency than most facial oils I've tried. Rather than using the dropper, I found the oil would just drip off the end of the dropper so be careful it doesn't drip on your clothes.
You only need 2 or 3 drops of this deep, golden oil to nourish and moisturise your face. After using this facial oil for about two months in the evenings, I can see a slight reduction in wrinkles and a bigger improvement in the reduction of fine lines. In the mornings, my skin looks smooth and feels supple.
This is a luxury product with a price tag to match but I would definitely consider buying this in the future. You only need a little and I still haven't finished the bottle so based on what I've seen so far, I am expecting further improvements. For the price you pay, you get an impressive list of ingredients including the key ingredients of Argan Oil, Avocado Oil and Borage Seed Oil plus that special Beri-Activ Antioxidant Complex.
Beri-Activ Antioxidant Complex
Ihana's products are based around their signature Beri-Activ Antioxidant Complex created from a unique blend of active berry oils and extracts from the Arctic. Due to the short summers the plants concentrate all of their energy into a single crop of berries. Therefore the berries "contain vastly superior quantities of active compounds compared to berries growing in more temperate climates".
Beri-Activ Antioxidant Complex contains:
Cloudberry – Anti-Ageing, Skin Brightening
Cranberry – Skin Conditioning and Restructuring
Bilberry – Anti-Ageing, Maintains skin elasticity and suppleness
Lingonberry – Hydrating, Anti-Ageing, Skin Lightening
Raspberry – Anti-inflammatory, UV-B and UV-C Protection
Blackcurrrant – Nourishing, Anti-inflammatory
Sea Buckthorn – Aids skin cell regeneration
Fragrance
It has a slight woody fragrance.
Directions – how to use
Shake gently before use. Apply a few drops to clean skin and massage gently until fully absorbed.
Ingredients – Ihana Beri-Activ Regenerating Facial Oil
Argania Spinosa (Argan) Kernel Oil*, Persea Gratissima (Avocado) Oil*, Borago Officinalis (Borage) Seed Extract*, Oenothera Biennis (Evening Primrose) Seed Extract*, Rubus Chamaemorus (Cloudberry) Seed Oil, Rosa Canina (Rosehip) Seed Extract*, Simmondsia Chinensis (Jojoba) Seed Oil*, Punica Granatum (Pomegranate) Seed Extract*, Oxycoccus Palustris (Cranberry) Seed Oil, Rubus Idaeus (Raspberry) Seed Extract, Echium Plantagenium (Echium) Seed Oil, Amaranthus Caudatus (Amaranth) Seed Extract*, Rosa Canina (Rosehip) Fruit Extract*, Vaccinium Vitis-Idaea (Lingonberry) Seed Oil, Vaccinium Myrtillus (Bilberry) Seed Oil, Ribes Nigrum (Blackcurrant) Seed Oil, Tocopherol (Natural Vitamin E), Hippophae Rhamnoides (Sea Buckthorn) Fruit Extract*, Rosmarinus Officinalis (Rosemary) Leaf Extract*, Helianthus Annuus (Sunflower) Seed Oil.
* From Organic Agriculture, 100% Natural Origin, 74% Organic.
Price and where to buy
Thanks to Only Naturals for sending me this product to try.
Your thoughts
Have you tried Ihana Beri-Activ Regenerating Facial Oil or any other Ihana products? What did you think? Please post your comments below.
---
Found this website useful?
Please consider donating a few pounds to help me develop this site. Or share this post with your friends and follow me on social media. Thanks for your support!
---
You may also like…