I remember when I was a little girl wanting to paint my nails and my mum buying me some peel-off nail varnish. Nowadays as more people are becoming conscious of what goes into and onto their bodies, it's great to see a safe, washable nail varnish designed for children and pregnant women. Children's bodies are less able to deal with harmful chemicals than adults so a safe alternative to standard nail varnishes is a good idea.
Why are Snails so safe?
[pullquote] You can buy SNAILS with absolute confidence because every polish is 100% European made. This means we satisfy the world's strictest cosmetics laws. Our children's nail polish is lovingly made using our revolutionary three–ingredient formula. [/pullquote]
Safe Nails AKA Snails kids nail varnish doesn't contain harsh or harmful chemicals and are free of:
Formaldehyde
Dibutyl Phthalte (DBP)
Toluene
Formaldehyde resin
Parabens
Camphor
They are made in Europe and consist of three safe, simple, main ingredients: water, acrylic polymer and non–toxic colorants.
 Application instructions
Snails are easy to use and come with an instruction sheet.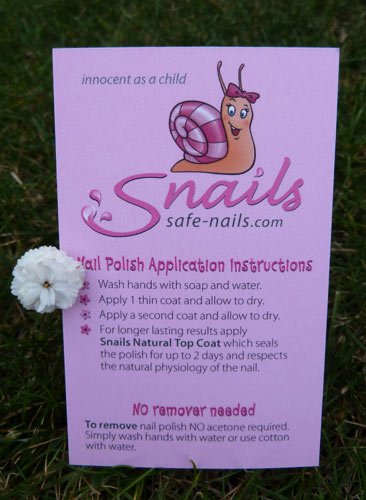 Be a Shade Greener rating (out of 5):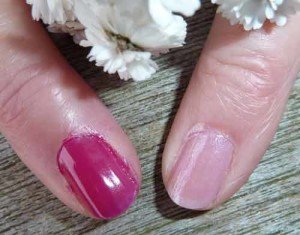 I was sent two colours to try – Cherry Queen, the bright pink colour, and Glitter Bomb, a pale pink with silver glitter specks. Both are lovely colours and I was very impressed with the coverage even after one coat. Two coats are recommended though. The horrible smell of traditional nail varnishes has been replaced with a sweet smell and I couldn't believe how easily they came off just by washing my hands. If you want to be able to keep the colour on for longer Snails also sell a Natural Top Coat.
I then passed them on to my friend and her daughter for their verdict. Mum was pleased to be able to use a safe product on her daughter's nails which was simple to remove. Her daughter loved the colours, the cute lady snail logo and the little gift bag which they came with.
---
Found this website useful?
Please consider donating a few pounds to help me develop this site. Or share this post with your friends and follow me on social media. Thanks for your support!
---
 Where to buy Snails nail varnish