This post was written in December 2013 but you can still buy this fantastic Christmas album, you lucky people.
Listening to Lauren Laverne's show on BBC 6music yesterday she played a song off the For Folk's Sake Christmas 2013 compilation and said that money from sales would be going to charity. As a fan of folk music and always keen to support charitable initiatives I thought I'd spread the word.
A Christmas-themed compilation album in aid of Médecins Sans Frontières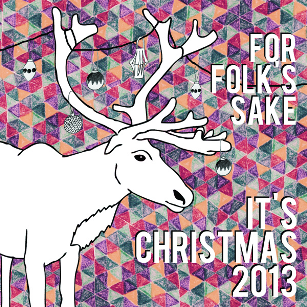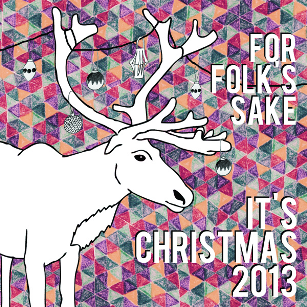 For Folk's Sake is a UK-based website run by a team of music enthusiasts from around the country writing about folk, country and roots music. It's Christmas 2013 is their fourth Christmas-themed compilation album was released on 1 December 2013. The record is available to order from forfolkssake.bandcamp.com and all orders come with an immediate download. You can also listen to the songs on the website so you can try before you buy. But if you dive straight in and buy it, I don't think you'll be disappointed. Plus all profits from the sale of the album will go to Médecins Sans Frontières.
"This year we feature tracks from Stornoway, Dark Dark Dark, Alessi's Ark and Left With Pictures as well as exciting newcomers like Patch & the Giant and Sophie Jamieson.
There are beautiful new versions of old favourites – Alessi's Ark brings joy to our worlds, and Laish offer a modern take on Silent Night – as well as new tracks tackling the horrors of Westfield at Christmas by Joe Innes & the Cavalcade, while Worry Dolls explore settling into Christmas back home."
They have chosen to support Médecins Sans Frontières as their friend and FFS writer Natalie Roberts' works as a doctor with MSF and has just come back from setting up hospitals in war-torn Syria, and is now stationed in the Philippines helping people affected by Typhoon Haiyan. All profits from the sale of For Folk's Sake It's Christmas 2013 will go to MSF to support their incredible work.
Physical copies, featuring artwork from Sarah Oxley, are available to order now from forfolkssake.bandcamp.com priced at £9 (+ postage). The album is also available to download.
1. Patch & the Giant – God Rest Ye Merry Gentlemen
2. The Pollyanna Band – Christmas All The Time
3. Sophie Jamieson – The First Noel
4. Stornoway – Gondwanaland
5. Joe Innes & the Cavalcade – Santa Says "Relax"
6. Alessi's Ark – Joy To The World
7. Left With Pictures – The Coldest Night
8. Howard Carter – Adagio from Corelli's Christmas Concerto
9. Worry Dolls – Coming Home
10. Dark Dark Dark – Winter Coat
11. Jessie Moncrieff – At Your Door
12. Inti Rowland – Coventry Carol
13. Laish – Silentish Night
14. Emperor Yes – Time Frog 4000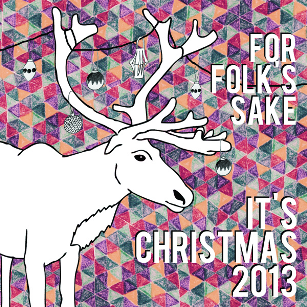 ---
Found this website useful?
Please consider donating a few pounds to help me develop this site. Or share this post with your friends and follow me on social media. Thanks for your support!
---