By buying an ethical or environmentally-friendly present this Christmas you can give a wonderful gift with added benefits.  Buy a Fairtrade pressie to ensure the  producers of your item are paid a fair wage. Give a gift to our planet by choosing items made from recycled materials instead of a product which uses more of the earth's resources. Support local craftspeople and artists by buying unique handmade gifts. As greener shopping becomes more popular the choice is increasing and becoming more and more innovative. Here are some cool Christmas gift ideas for friends and family:
Christmas heart jewellery from Kate Hamilton-Hunter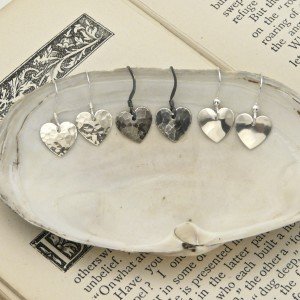 Kate designs and makes stunning environmentally-friendly jewellery from recycled silver, biscuit and sweet tins! This year's Christmas range features gold, cream and deep red tin decorated in floral swirls. Check out Kate's website for her other designs such as butterflies. I don't think there is a woman or girl in the country who wouldn't love a piece of Kate's jewellery to unwrap on Christmas morning. I know there'll be one on my wishlist!
Letter Writing Set from Green Gables
Who doesn't miss getting a letter in the post from a friend? Emails just aren't the same and definitely don't give me the same sense of excitement as when the post drops through the letterbox and for a moment I hope that there's something other than bills. Why not buy a letter writing set,where the paper, envelopes and card box envelope packaging is all made from 100% recycled paper/card and the ribbon is made from biodegradable wood pulp. The stickers are a mix of paper and vinyl. Maybe one day one of the green envelopes will turn up on your doormat…
Montezuma's organic chocolate
I'm a chocoholic and Montezuma's is my favourite. They have a great choice of organic Xmas chocolate goodies at a range of prices including vegan advent calendars, organic Chunky Snowmen and Christmas hampers. If you've never tried their chocolate before, now is the time!
Imana Bead Bracelet – Gold/Cream (
Nkuku)
This hand-crafted Fair Trade bead bracelet made with natural and recycled materials to create a real statement piece. Being Fair Trade means the people who made this gorgeous gold and cream bracelet were paid a fair wage, while it is also good for the environment!
Organic skin care essentials gift set from Green People
Green People make fantastic skincare and bodycare products and this Organic Skin Care Essentials gift set is a great introduction to their natural range which is  made without SLS, parabens, petrochemicals, alcohol (ethyl alcohol/ethanol), lanolin, artificial fragrance, phthalates and colourants. It's also an ideal present for vegans and vegetarians. For £12.50 you get an amazing £22.40 worth of products.
Butterfly & insect box from Little Wren Gifts
Gardeners and nature lovers will be pleased to receive this beautiful floral design butterfly and insect house made from sustainable wood. £18.00
Whale & Dolphin Conservation 2015 Calendar
For lovers of whales and dolphins why not get them this A4 calendar which celebrates whales and dolphins from around the world. £5.95
Penguin Hand-Squeeze Flashlight
The Penguin Hand-Squeeze Flashlight torch from Ecotronic is renewable energy in a very cute package which kids will love. As well as being fun, you can use it as an educational tool to teach children not to use batteries but generate electricity by themselves! Squeeze the penguin's wing for one minute, and this dynamo light with its superbright LED lamp will shine for up to 5 minutes. £5.35
Rose & geranium organic body collection from Neal's Yard Remedies
Rose and geranium has to be my favourite aroma and this new Rose & Geranium Organic Body Collection (£14) from NYR combines these two stunning scents in a shower gel and a body lotion so the lucky recipient can layer this fragrance.
Banana yarn purse from Ethics Girls
This quirky textured handknitted Aura Que zipped purse is made from 100% natural banana fibre yarn that is produced sustainably from the pruned excess outer layers of banana trees after each fruit harvest in South Nepal. The geometric pattern is available in 3 different colour schemes and costs £12:
Coral Red/Blue/Brown
Purple/Green/Grey
Grey Mono – Grey/Black/Cream
Eco reading
Big Green Smile have 3 environmentally-friendly books on special offer at the moment by author Joanna Yarrow:
Ecological £3.95
1001 ways you can save the planet £2.99
How to reduce your carbon footprint £1.99
Solar-powered weather station
Looking for a boy's toy for the little or big man in your life? This PowerPlus Seal – Solar Powered Weather Station is an unusual present which is useful too. It tells the time, date and monitors the weather with a solar powered barometer. £30.62
Outdoor gear from Yew Clothing
Yew Clothing make clothes for active people from sustainable materials, such as a Women's Local Warming Jacket manufactured from 100% recycled polyester. Products include T-shirts, base layers, jackets, gift vouchers and green bicycle oil! Ideal for those into running and cycling.
I hope that's given you some inspiration. Let me know if you have any other good ideas for Christmas presents which make a difference.
---
Found this website useful?
Please consider donating a few pounds to help me develop this site. Or share this post with your friends and follow me on social media. Thanks for your support!
---