Eco-friendly hand sanitiser is useful when you can't wash your hands with soap & water. Try these alternative eco-friendly hand sanitisers with natural, organic ingredients which could be kinder to your skin and more moisturising than conventional hand sanitiser gels. I've also included sanitising hand washes which are an alternative to soap and require you to rinse off your hands with water. As you'd expect from eco brands there are products in plastic-free packaging and also refillable options. If all this hand washing is leaving your hands dry and chapped, take a look at my post about the best natural hand cream for dry hands. You might also want to look at eco-friendly hand wipes.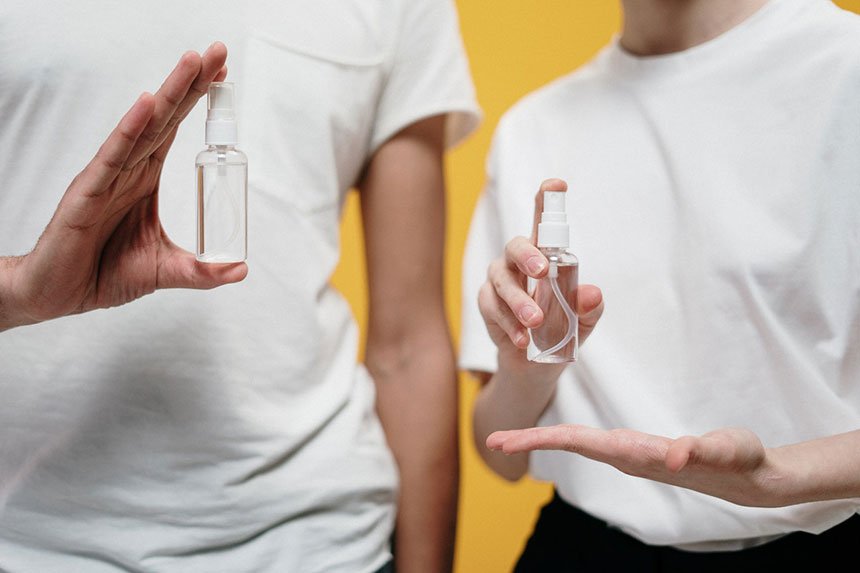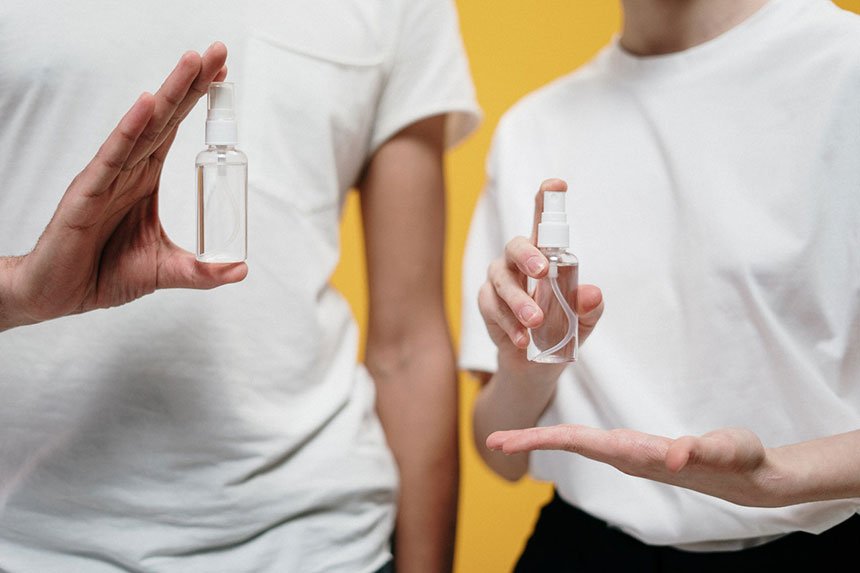 Hand sanitiser and the coronavirus
Hand sanitizer sales in the UK have rocketed in recent months as people try to protect themselves against catching the coronavirus (Covid-19). When it comes to the coronavirus, the World Health Organisation (WHO) say you need an alcohol-based hand sanitiser. Some green and eco-friendly products don't contain alcohol so you should check the ingredients.
Want your natural, organic hand sanitiser to be effective against particular bacteria or viruses? If you have any doubts, contact the company to see that it's suitable for your needs. There are a number of eco hand sanitisers which do list alcohol in the ingredients including Bower Hand Sanitiser Gel with essential oils, Evolve Beauty's hand sanitisers and the one from Balance Me.
Hand washing with soap vs hand sanitiser
Hand washing with soap and water and then drying them thoroughly is the most effective method of cleaning hands according to the World Health Organisation but when you're not able to do that, you can use a hand gel or hand sanitiser. Read on for some of the best eco-friendly hand sanitisers.
Beauty Kitchen Organic Vegan Hand Sanitiser (Refills available)
This organic vegan hand sanitiser contains 62% alcohol for effective sanitation plus moisturising aloe vera and vegetable glycerine to help relieve dry skin. You can also buy refills in metal bottles making it extra eco-friendly and sustainable.
Shop online
Flawless Hand Sanitiser Gel
This plastic-free hand sanitising gel has a final alcohol concentration of 75% (v/v), in line with recommendations from the World Health Organisation. Aloe vera soothes the skin whilst Rosemary, Lavender & Tea Tree essential oils provide an extra boost due to their natural antimicrobial and antiseptic properties. If you want an eco hand gel, this scores extra points for being packaged in jars made with recycled glass and aluminium. It's also made with vegan-friendly and cruelty-free ingredients.
Shop online
Balance Me Naturally Active Hand Sanitiser
This new hand sanitiser from one of my favourite brands, Balance Me, contains refreshing and soothing Tea Tree oil and 70% alcohol. It's proven to kill 99.99% bacteria. It's a great ethical choice as for every hand sanitiser you buy they will donate one so that an NHS worker, keyworker or local charity can keep safe too. Balance Me have a great special offer on a "clean + protect" bundle containing hand sanitiser and one of my favourite hand creams.
Shop online
Evolve Keep Calm and Spray On Hand Sanitiser
Evolve's moisturising hand sanitiser is formulated with a 70% alcohol content, which they say is "the amount recommended by Public Health England to help battle viruses". Hand sanitisers can be drying so Evolve have included glycerin for hydration. Bergamot has antiviral properties and an uplifting scent. It is a versatile liquid formula containing 180 uses per full size bottle that can also be used to sanitise surfaces. It's also suitable for vegans.
For every bottle of hand sanitiser you purchase, Evolve will donate a bottle to a charity or good cause that needs it in these trying times.
Shop online
The Secret Garden Lavender & Thyme Hand Sanitiser
This lavender and thyme hand sanitiser contains Alcohol (80%), organic essential oils and distilled waters. Lavender gives it a relaxing scent but has also been used as an antiseptic, antibacterial and antiviral for millenniums. A vegan product made in the UK. Natural vegetable glycerine helps break down bacteria and soften the texture.
Shop online
Dr Bronner's Organic Lavender Hand Hygiene Spray
Dr Bronner's Organic Hand Hygiene Spray helps to eliminate germs with a simple formula of organic ethyl alcohol, water, organic lavender oil, and organic glycerin.
Shop online
MooGoo Anti-Bacterial Hand Gel
A natural, wash-free eco hand gel to keep your hands clean which killed 99.9999% of germs in a time kill study. This anti-bacterial, alcohol-free, eco-friendly alternative that sanitises and moisturises with Aloe Vera and Natural Vitamin E.
Shop online
Bentley Organic Hand Sanitiser with Organic Aloe Vera
Proven to kill 99.9% of germs
Tested and passed by a British Government Laboratory to kill H1N1 Influenza Virus, Swine Flu
Up to 125 applications
Soil Association-certified – made with 90% organic ingredients
Organic Aloe Vera moisturises your hands
Alcohol, paraben and fragrance free
Shop online
Bentley Organic Moisturising Hand Sanitizer with Organic Lemon Oil
This is a similar product to the above with added lemon oil for a fresh citrus fragrance and it contains 93% organic ingredients.
Shop online
Bentley Organic Mother & Baby Hand Sanitizer
This organic hand sanitiser has been made with 90% organic ingredients for your baby's delicate skin. It also contains moisturising organic aloe vera and is alcohol-free. "Proven to kill 99.9% of harmful viuses and bacteria including Swine Flu, H1N1, E Coli, Salmonella and Listeria."
Shop online
Green People Organic Children Sticky Hand Sanitiser
Green People's Sticky Hand Sanitiser is a natural and effective antibacterial hand foam with a citrus fragrance. Created specifically for babies, toddlers and older kids but works just as well for adults. It can also be used to clean surfaces such as toys and high chairs.
Perfect size to pop in your hand-bag or changing bag for days out
Organic Tree Tree extract has strong antiseptic properties
Good value as up to 200 squirts per bottle as a little goes a long way
Contains organic Aloe Vera, Tea Tree, Orange & Mandarin
To clean hands just apply a small amount and rub together, no need to wash off.
Can also be used on a cloth to wipe faces, clean toys and high chairs.
Suitable for children and babies so useful for nappy changes.
Shop online
Bio D Hand Sanitising Hand Wash – Geranium
This hand sanitiser kills 99.9% of gems while also being gentle on skin and hypoallergenic. It has been naturally derived from raw materials and contains no petrochemicals, phosphates, preservatives, enzymes or synthetic perfumes. It's used more like a soap so you need water to rinse your hands afterwards.
Shop online
I hope this post has helped you find an eco-friendly hand sanitiser. If you've got any other suggestions for the best natural hand sanitiser, please post them below.
---
Found this website useful?
Please consider donating a few pounds to help me develop this site. Or share this post with your friends and follow me on social media. Thanks for your support!
---
You may also be interested in…