Here's a quick guide to some top organic sunscreen products to help you protect yourself and your loved ones. You'll also find out what you need to look for in a sunscreen product and suggestions for natural and organic sun cream products for babies, children and adults. all the family. There's also some options in plastic-free packaging.
Top organic sunscreen products
Natural sun protection usually means physical sunscreens that use minerals (such as zinc oxide and titanium oxide) to block UV rays. It's also used to refer to sunscreens that don't include oxybenzone (an ingredient that can affect hormones and allergies in humans and has been found to cause coral bleaching and coral death).
Don't forget to check the expiry date on your sunscreen, and don't use it if it has expired. I've been looking into natural and organic sun products available and here are some you may want to try:
Plastic-free sunscreen
We Love the Planet Natural Sunscreen Stick SPF30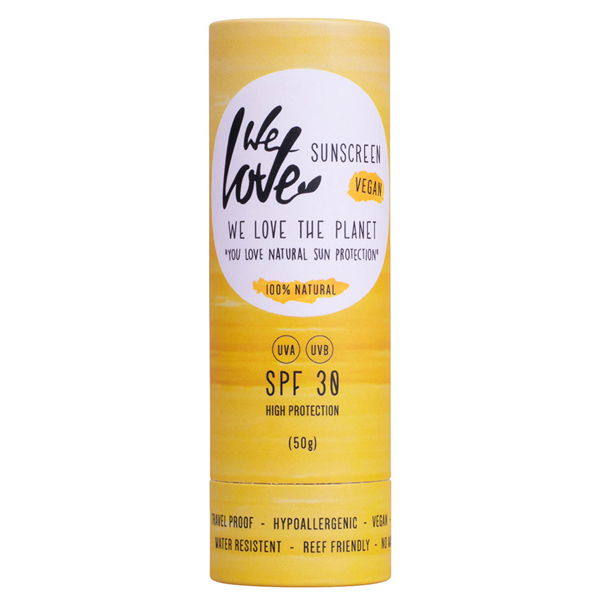 This plastic-free sunscreen stick is made of 100% natural ingredients and is vegan-friendly too. Based on a combination of rapeseed oil, coconut oil and corn starch powder, among other natural ingredients, this sunscreen is easy to apply and moisturises your skin. The natural UV filters (zinc oxide and titanium dioxide) protect your skin against the effects of the sun. The cardboard tube makes it a zero waste sunscreen.
Buy from Ethical Superstore
Shade All-Natural Sunscreen SPF25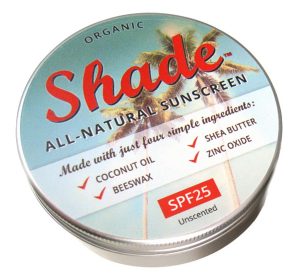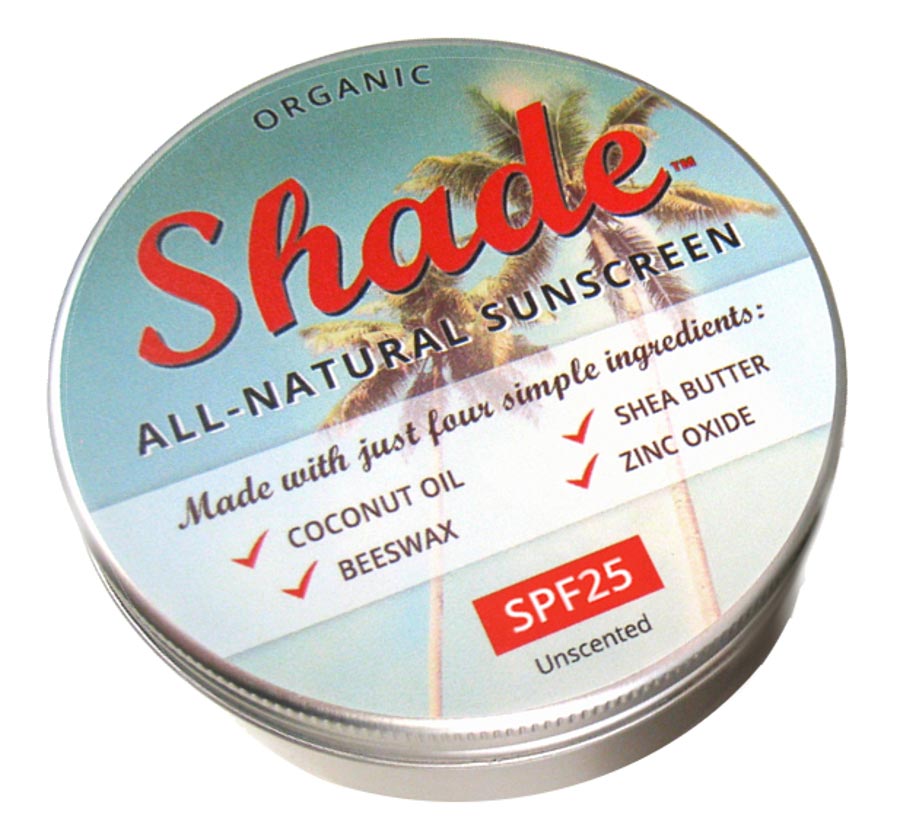 I love that this sunscreen is in plastic-free packaging coming in a metal tin. Shade is 72% organic and made with just 4 natural ingredients and that's it. Organic shea butter, organic coconut oil and sustainable beeswax are blended with non-nano zinc oxide to give you the "safest, broadest-spectrum sun protection".
Shade sunscreen is free from alcohol, petrochemicals, triclosans and many other commonly found chemicals. This environmentally-friendly sunscreen has zero microbeads or palm oil, and is completely biodegradable and suitable to use with septic tanks.
Jason Kids Sunscreen SPF45
This provides full spectrum skin protection for active children with a unique formulation which combines a natural mineral sunblock with botanical extracts to protect children's delicate skin.
"Yes, we know this is meant to be for children but when a cream is this good we don't care! It's non-greasy formula makes it easy to use on your face and with the trusted UVA and UVB it ensures skin is the safest it can be in the sun."

Natural Health magazine
UVA & UVB protection
Paraben free
Hypoallergenic
Anti-oxidant
Water resistant
Provides long lasting solar defence
Buy:
Organii SPF50 Sun Milk
Organic, fragrance-free, mineral sun milk with an SPF50 so suitable for the whole family. Organii say it's quickly absorbed and rubs in without leaving whiteness or residue which can be an issue with mineral sun creams.
Buy from Ethical Superstore
Lovea Natural Sunscreen Spray SPF30
This sounds like one of the greenest sunscreens around as it's an Ecocert certified organic product.  The formula is non-greasy and applies without white traces. Please note it's not suitable for children under 3. Lovea is coral-safe and contains natural mineral sun blocks combined with certified organic, bio-degradable plant extracts. It does not contain any chemicals which can damage coral reefs. It sounds like a top organic sunscreen.
Paraben free
Lightly scented with natural essential oils
Made in accordance with European regulations
Provides high UVA & UVB protection
Water resistant
Dermatologically tested
Made with Tahiti Monoï: moisturises
Monoï fragrance
Other Lovea products:
Lovea Organic Kids Sun Lotion SPF50
Lovea SPF 50 Daily Face Cream – This is the first organic certified SPF 50 face cream that also provides maximum protection against premature skin ageing and is the one that I use.
Lovea Natural Sunscreen Spray SPF15
Buy from: Big Green Smile's Lovea products range
Green People Sun Lotion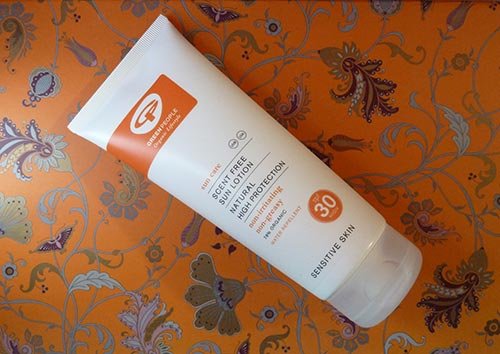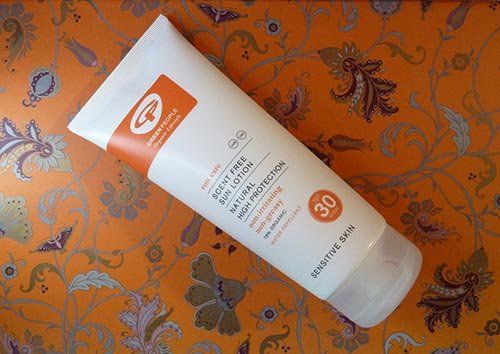 Green People offer a wide range of sun lotions, self-tan products and after sun. Their natural sunscreens contain antioxidants and anti inflammatory ingredients with skin vitamins A, C and E (Green Tea, Olive, Avocado and Rosemary extract) to help support the skin's immune system and protect against cell damage. Their organic sun lotions are made without:
Pore-clogging ingredients (which can cause prickly heat)
PABA-sunscreen
Parabens
Phthalates
Artificial fragrances
I've used their sun cream before and definitely rate them as a top organic sunscreen (read my review). Helpfully, they offer some trial sizes products for sale so you can try them out before you buy a full-size product. Some products are specifically designed for children, others are scent-free and some have a tan accelerator so I think there must be something for everyone!
Buy from:
Lavera Sun Sun Spray SPF 20
100% mineral sun protection provided by organic ingredients of Sunflower Oil and Calendula together with the natural UV protection reflect the sun's rays and cares for your skin.
UVA and UVB Protection – tested to Colipa – European Standard
UVA and UVB Balance
Water resistant
100% mineral
Hypoallergenic and fragrance free.
Vegan
Buy
Sun damage to your face
If you've ever doubted the power of the sun to cause damage to the skin take a look at this photo of a truck driver showing the incredible effect of the sun's rays to the side of his face which was next to the window as he drove around.
With the beautiful sunny weather we've been having recently, you've no doubt been thinking about buying sun cream products. So here's my quick guide to what you need to look for in a top organic sunscreen product.
What's the difference between UVA and UVB?
Choose a sun screen that protects you from both UVA and UVB. UVB radiation is the main cause of sun burn but both UVA and UVB have been implicated with skin cancer and both UVA and UVB can damage collagen fibres, which accelerates the ageing of the skin.
What does sun cream factor mean?
SPF25 sunscreen offers 96% protection from rays while SPF50 offers 98%. SPF 30 sun lotions do not offer twice the protection of SPF15. Applied properly, SPF15 filters out 93% of UVB rays, while SPF 30 filters out 97%. Even the highest SPF100 offers only 99% protection against UVB rays. It is far more important to apply sun lotions regularly and liberally.
Sun protection advice
The SunSmart campaign recommends that you:
Use sunscreen with a sun protection factor (SPF) of 15 or more.
Choose a sunscreen labelled "broad spectrum", which means it protects against both UVA and UVB rays, with a star rating of four or five stars.
Apply sunscreen to clean, dry skin.
Use around two teaspoons of suncream to cover your head, arms and neck.
Use at least two tablespoons of sunscream to cover all your exposed skin, if you're wearing a swimsuit.
Re-apply sunscreen regularly (at least every two hours) as it can come off through washing, rubbing or sweating.
Re-apply sunscreen after going in the water, even if it's labelled waterproof.
Use sunscreen along with clothing and staying in the shade to avoid getting caught out by sunburn.
Don't be tempted to spend longer in the sun than you would without sunscreen.
Join the discussion
Can you recommend these or any other top organic sunscreen? I'd love to hear from you so please post your comments below.
You may also like…
(First published May 2012, updated June 2021)
---
Found this website useful?
Please consider donating a few pounds to help me develop this site. Or share this post with your friends and follow me on social media. Thanks for your support!
---